What a sight when you first see that boat .... WOW! You may want to go online .... look up The Allure .... and view it .... it is 21 stories tall .... more than 8,000 guests .... plus 2,600 crew .... and is fabulous. I had a lovely king room with a balcony, in the middle of the ship on the 10th floor .... a perfect location ....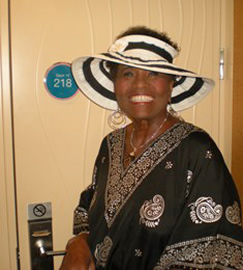 This cruise was a gift from a dear 92-year old friend, she is with Jesus now .... I thought of her often as I walked around .... I did enjoy myself.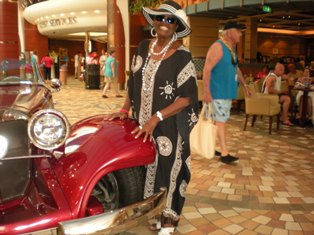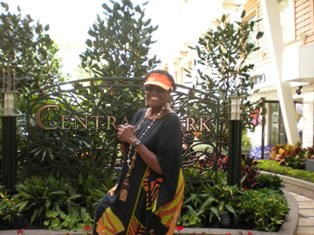 walking through Central Park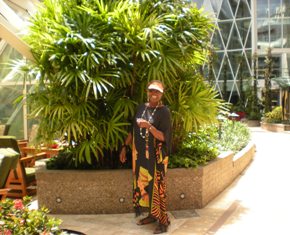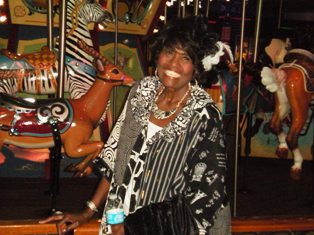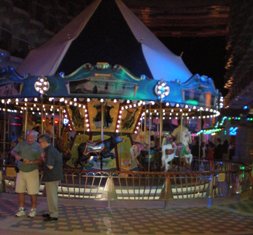 .....the Boardwalk.....with a carousel.....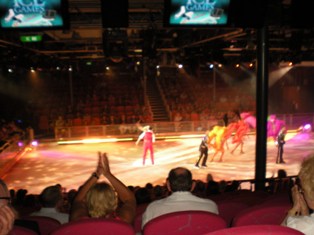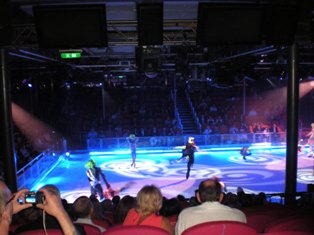 A big ice skating rink (not for me)

.... but I did attend the ice show .... with the top Olympic ice-skaters.
A real highlight was the headliner show, a singer/dancer Vegas-style, with an incredible voice and stage presence.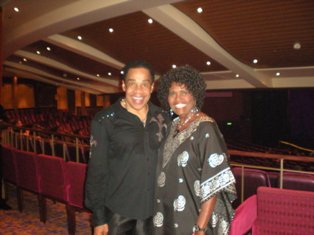 Earl Turner and Ms. Lillie
There were 2 comedians .... I enjoyed on the "family night show" .... was clean. I love to laugh. Life can be funny.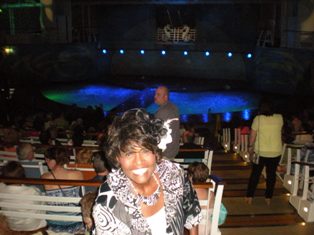 Another exciting thing was the water show ..... top Olympic divers with precise diving abilities.
And then there is the food .... oh my! ... all the food you want to eat in the 3 dining rooms 3 times a day .... plus room service 24 hours a day .... and all of the restaurants as you walk the ship .... I did gain 6 lbs .... but I have lost it .... when I returned to eating just regular food and smaller portions.

I absolutely love to dress in formal attire for dinner.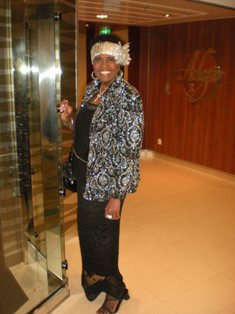 After dinner I went down to take a picture with the Captain.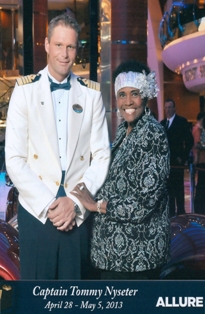 On Tuesday April 30 (my birthday) .... at dinner .... the waiters and friends made it a special time singing to me .... it was a fun night.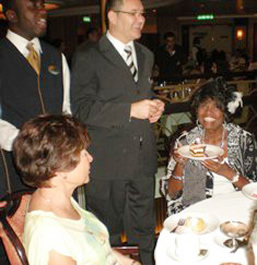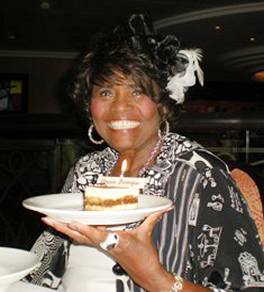 Happy 75th Birthday
Because I knew I would be on the ship on the National Day of Prayer Thursday, May 2, I did want to have a service to observe it .... I was given permission to have it in the chapel 7am and 3pm .... what a blessing! And God arranged that the ship officer who delivered the CD player for the service .... was a Born Again Christian .... had lost her Mom and really did need that service .... God ministered to her in a precious way .... it was a great day!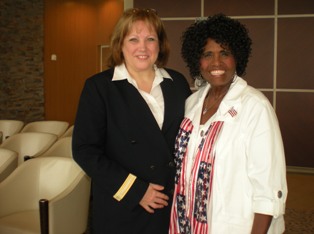 Senior Ship Officer, Arlene and Ms. Lillie
I had asked different people to pray for specific needs in our Nation and the world .... I read the prayer written by this year's Honorary Chairman Pastor Greg Laurie .... it was powerful! We asked God for mercy .... to forgive us and revive us. I am grateful that God has used Mrs. Shirley Dobson all these years to encourage us to pray.
As I returned to my room between the services, there was a gorgeous vase of red roses .... the card was from a senior officer ... when I called downstairs to ask "why the flowers?" .... his reply .... "well, when I waited on you at the desk .... you mentioned this was your birthday cruise .... you were so upbeat and joyful .... I wanted to do this for you WOW! God is good!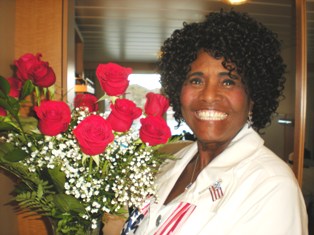 Each day was a great adventure for me .... and I do love the talent night .... I actually have 6 awards .... I have been given for winning the talent contests through the years on cruise ships .... it is a fun time for me .... I sang "O Happy Day" .... the crowd was very receptive .... out of the 10 who sang .... the voting narrowed it down to 3 of us .... we each had to sing another song .... I did Route 66 .... then the voting narrowed it down to 2 of us .... me and a girl from Brazil .... and she won .... but I came in 2nd.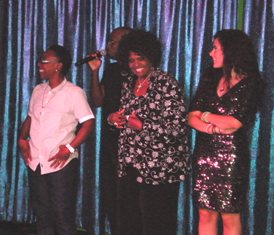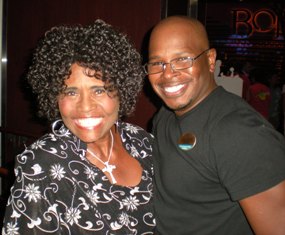 Ms. Lillie and Talent Night Coordinator, Ivan
After that night, folk would stop to compliment my singing on talent night .... as well as many had seen me on the Gaither Videos and wanted to take a photo. So I met and made many new friends.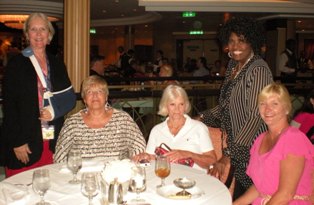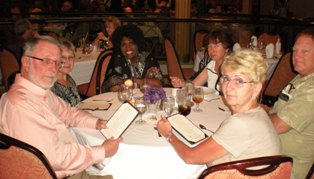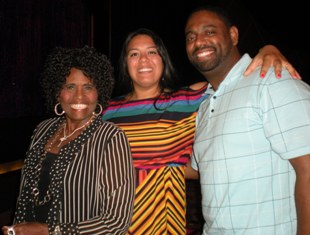 The week went by sooooo quickly .... and because I had been to Nassau .... St. Thomas .... St. Marten, I did not go into town .... I just stayed on the ship. There were many fun things to do. I had fun doing some of the dance routines.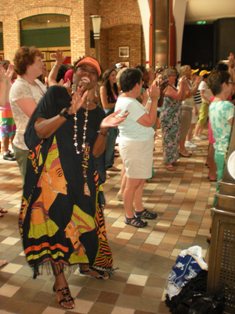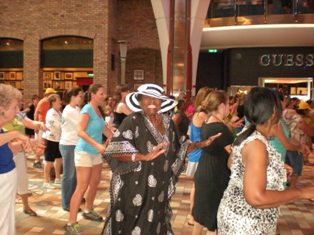 As I was planning this cruise, I had also thought .... "well, we come back into Fort Lauderdale on Sunday morning at 7am .... maybe I could sing at a church that has a later service" .... and it happened.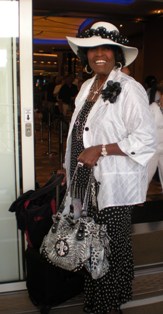 Ms. Lillie leaving The Allure for church