You've seen her, there in the midst of a large crowd. Lillie Knauls is the one with the big smile and the hat. Some might dismiss her trademark hat with a casual glance, but a few will see it for the witnessing opportunity it brings. "I grew up in the church," Ms. Lillie explains, "and as a little girl I played the piano and tambourine and sang in the choir. The first Sunday of the month was Communion Day. All the women wore white; hats were worn to every service. In the first Homecoming book that Bill Gaither and Jerry Jenkins put together, there is a picture of me as a child on page 61, and I'm wearing a hat.
"When I was invited to a Homecoming taping, I thought, 'I'll wear a hat,' and folks began telling me how much they liked it. Some 50 videos later, I'm known as 'the hat lady'. "
Out of that has come the opportunity for Lillie to do "Hats-on Breakfast or Luncheons with Ms. Lillie," where she speaks and sings to the ladies who attend. "They wear hats, and prizes are given in different categories," she says. "Many ladies tell me they feel special and really dressed up wearing a hat. I even wrote a little song called `Hattitude.' The meetings are so much fun, as well as a time for ministry."
The "hat" ministry is just one small part of this delightful lady. In the early 1960s she was a soloist for her church in San Jose, California. In 1969 she was part of the Edwin Hawkins Singers (O Happy Day), traveling the world. "That was a great time in my life," she says.
In 1974, Ms. Lillie was asked to sing in a new musical, "Alleluia." Doug Oldham was guest soloist, and she was delighted to be on the same program with him. After the program, Doug told her, "I'm going to tell two friends about you."
Doug told his friends--and one day, as Ms. Lillie sat at her desk at the telephone company, her supervisor came to tell her that someone named Bill Gaither was on the phone. "Actually that was like saying the President was calling me," she recalls.
That call resulted in Ms. Lillie's becoming one of the artists on Bill's new Paragon label, working with GMA Hall of Fame producer Bob MacKenzie. She also traveled some with the Gaither Trio.
Today Ms. Lillie wears her hats, carries on her own ministry and is a part of the Gaither Homecoming Series of tours and videos. She has sung in more than 57 countries and in 49 of the 50 states -- all except Mississippi.
"I thought my life was planned," she says. "I would work 30 years at the telephone company, receive a full pension and enjoy life. Now I am very happy that God had other plans. Music is a powerful medium, and I am able to be out there now at age 68 still traveling. I know that whatever our age, if we are willing to do what God asks us to do, He will give us strength and stamina to be like the Energizer Bunny. We'll just keep going until He calls us home to receive our reward."
Then Ms. Lillie can replace her hat with a crown.
--Henrietta Brown
(written in 2006)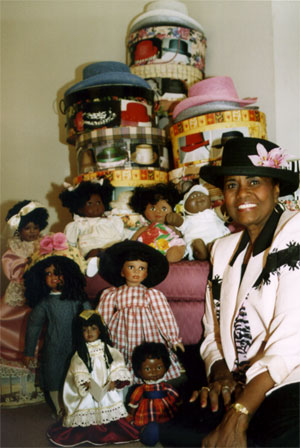 "I am asked often how I store all my hats - Well when I buy a new one - I take a picture of it - place it on a hat box - then I know exactly which one to take down from the shelf. It's a great idea." - Ms. Lillie
CONTACT:
Ms. Lillie Knauls
Home: 909-948-2448
Cell: 909-728-1010
E-Mail: singer@misslillie.com
Please include your phone number
when contacting Ms. Lillie
Designed by: Wimberly's Web Works