"He who has begun a good work in you
will perform it until the day of Jesus Christ."
Philippians 1:6

"Lillie who?" That's what folks were saying in 1975 when the first gospel recording of Lillie Knauls was released. Since 1975, she has recorded a number of albums of gospel favorites, as well as her original songs.
To answer the question, "Lillie who?" Here's the answer about this incredibly moving musician. Ms. Knauls was born in Arkansas. Her parents had six girls and one boy. Church was the first place Lillie went in life. When the church doors opened, the Knauls family was there. Lillie can't ever remember not loving the Lord. She asked Him to come into her heart at a very young age.
At age 13 her father passed away and the family moved to Seattle, Washington, to live with her Mother's sister. Lillie attended Middle and High school, and began working at Pacific Telephone in 1956. She is looking forward to attending her next Garfield High School Class Reunion.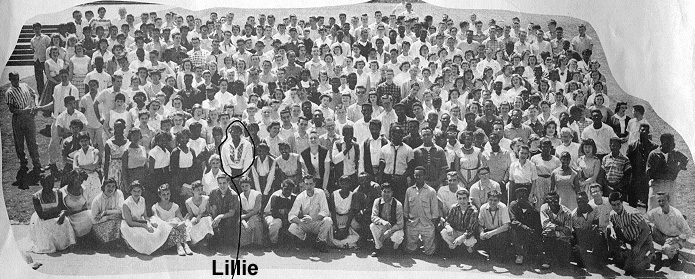 1956 GARFIELD HIGH SCHOOL CLASS
SEATTLE, WA


As a joke, Ms. Lillie
posed as a
"Bride Left at the Altar."

Did you know in 1963, in Seattle, Lillie was almost a married lady? Just months before her wedding to a handsome young man, Lillie called it off. She felt it was not God's will. She then moved to San Jose, California.

While working at the Telephone Company in San Jose, Lillie took a leave of absence to sing with the Edwin Hawkins Singers in 1970. This was when their song, "O, Happy Day" was Number One on the Gospel charts. It was the first Gospel Song to cross over to Secular Billboard Charts, and sold over a million copies. Ms. Lillie's version can be found on her "Lillie Knauls Past and Present" 2007 Dove Winning CD (check out the Music Page!). They sang all over the United States and Europe, in concert halls and on television shows.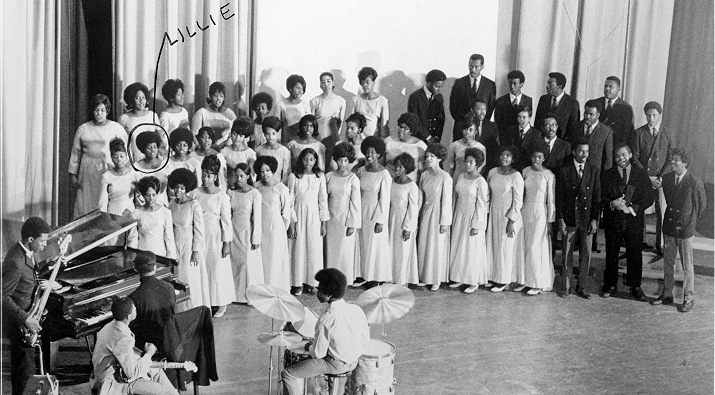 EDWIN HAWKINS SINGERS
Gospel Music Hall Of
Fame Inducts Three
New Black Members

The Gospel Music Association (GMA) recently inducted eight music superstars into its Gospel Music Hall of Fame in Nashville, TN, including Shirly Caesar, the Fisk Jubilee Singers and the Edwin Hawkins Singers.

Lillie Knauls, an original member of the Edwin Hawkins Singers, accepted the award on behalf of her group's induction into the Gospel Hall of Fame.
Knowing that God called her to a full-time music ministry, she walked away from her job of 22 years at the telephone company. During her farewell luncheon, God gave her a scripture which is still one of her favorites, Matthew 6:26, "Look at the birds of the air; they do not sow or reap or store in barns, yet your Heavenly Father feeds them. Are you not much more valuable than they?" God has proven Himself true to His Word! He is faithful and supplies ALL her needs with no regular paycheck.

God is not unjust, He will not forget your work, and the love you have shown Him as you have helped His people and continue to help them."
~ Hebrews 6:10

February 16, 1999 - Ms. Lillie's mother passed from this life to be with Jesus. She was 94 years on this earth, but will spend eternity with Jesus.


Ms. Lillie, with her Mother, Gladys.
Around the world several times, the "MUSICIANARY" goes wherever the doors are opened. Ms. Lillie ministers in large and small churches, Aglow Fellowships, rest homes, prisons, Christian Women's clubs and major Christian TV programs.

In addition, God gave Ms. Lillie the gift of being single. (1Corinthians 7:32) Lillie is a frequent speaker at Single's Rallies where she shares on the subject, "Single and Satisfied." She stresses the importance of singles being involved with families, especially ones with children.

Lillie has covered the globe ministering and singing about God's love in all nations, except those under Communist rule. Once in Rio de Janeiro, she sang to 200,000 people and 500,000 in Ghana! Though the times and places change, her musical message remains the same... strictly Christ-centered!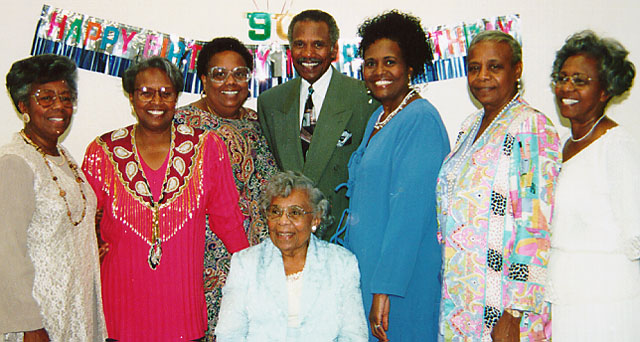 Ms. Lillie and her family at her mother's 90th Birthday Celebration
From the right, Nell, Evelyn, Loretta, Paul, Ms. Lillie, Gertie, Gladine and
seated in front, Mother Gladys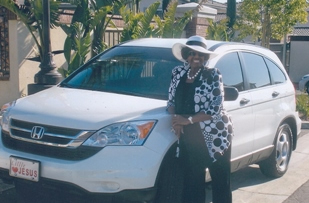 Ms. Lillie in her Honda CRV
Ms. Lillie now lives in California and has covered the globe
ministering and singing about God's love.
She continues to bless and delight audiences all over the world!
CONTACT:
Ms. Lillie Knauls
Home: 909-948-2448
Cell: 909-728-1010
E-Mail: singer@misslillie.com
Please include your phone number
when contacting Ms. Lillie