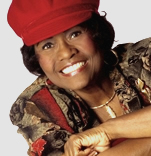 April 2011
I am so grateful to God for loving the World....ME, so much that He was willing to send His Only Son Jesus to this World to pay the penalty for all our sins. That fact becomes so real to me as we celebrate Easter Sunday....which I prefer to call "Resurrection Day" ....Yes, Jesus is alive! I love to attend the marvelous productions presented by the churches. I realize that much work goes into those dramas....and I believe that because so many folk only come to a church on Easter and Christmas ....that it is certainly worth all the effort that goes into making them possible. Often, I say to Jesus...."Thank you for being willing to come to Earth and provide for my salvation through your death and resurrection" .... this must be our message to all we meet so that they can have the privilege of being a part of the family of God.
John 3:16 - For God so loved the World, that He gave His Only Begotten Son, that whoseoever believes in Him should not perish, but have everlasting life.
This month began with me in beautiful Hawaii. Here I am at the Honolulu Airport....as you can see, I am wearing three hats

I have noticed each time I board a plane for a cruise....that many folk just wear all of their hats....so I thought....it would be one less thing to pack. Maybe you'll think about it next time you travel.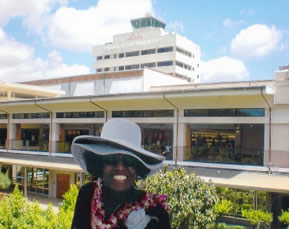 It was so good to be back in the Islands....to meet and greet some of the many friends I met when I lived there for nearly 10 years. My first Sunday there....I sang in a church on the North Shore....a church filled with surfers....a young crowd....by the way, parts of the movie "Soul Surfer" were filmed in that area. I was so excited to get to see it with a Hawaii audience. God is certainly using Bethany Hamilton as she travels the world to testify about Him. It is a great movie! And that day, God used me to minister to them in a powerful way, and I was happy....I must admit I was a bit intimidated, but God reached through the generation gap and I know they were touched.

Psalm 71:18 - Now also, when I am old and greyheaded, O God, do not forsake me, until I declare Your Strength to this generation, and Your Power to everyone who is to come.
I had a wonderful privilege....I was asked to sing at the Hawaii Prayer Breakfast....it was indeed a honor as I am no longer a resident there. They requested "God Bless America" at the close of the breakfast....I was asked to sing the verse through alone....and they would join me for the next verse....a powerful moment!
The following Sunday, I was able to sing at my former church....First Assembly....a dynamic church. Pastor Ko had a vision for the Islands to plant six to seven churches in different parts, and he has done that. He begins a church by sending a great team....and all six are doing very well with their own midweek service and all of the other ministries that make up "the church." The six churches come together at the "Mother" church for Sunday night services....a great concept! One of my favorite speakers in the whole world is my long-time friend, Randy Hurst....I was excited to learn that he would be speaking the night I was at First Assembly....and as usual, I was soooooooo blessed and challenged.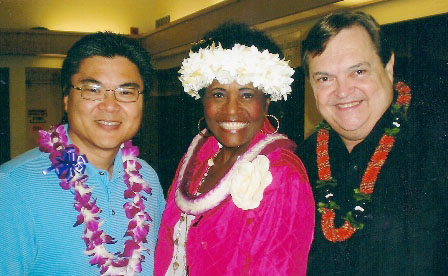 Pastor Ko, Ms Lillie and Randy Hurst
Then, the day came for me to celebrate my 73rd birthday....it was at a beautiful location, high on a hill.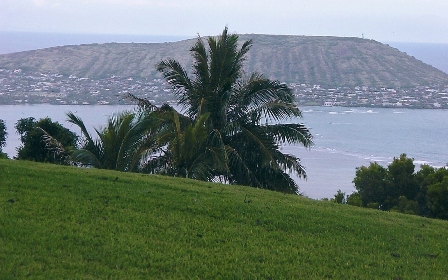 Fifty of my lady-friends came ....most of them wearing hats, it was so much fun. It was humbling to hear so many great comments about how they came to know me, etc. One story in particular I'll share with you. I was given a book about conversion from Mormonism to Christianity .... to my surprise, my name was in the book. It seems that 30 years ago when Melodyland was the place to be....the place to go....to hear the most powerful Christian speakers and singers, I learned that a young lady named Cindy had been invited the night I sang "The Comforter Has Come".... there was a special anointing....the Holy Spirit had been dealing with her, but in her heart, she had not surrendered. When I came out to sing, she seemed frustrated because of what she had been taught all her life about "blacks." However, as I sang, her heart was softened .... when the alter call was made, she came forward and has been a part of YWAM for a number of years. She is my special friend.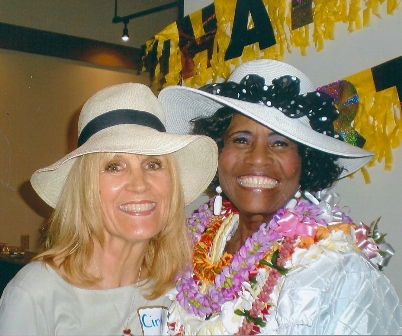 Cindy and Ms. Lillie
I am well aware "all that I am and ever hope to be, I owe it all to God."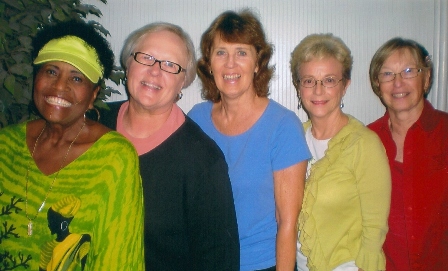 Ms. Lillie with Stephanie, Cindy, Sandi, and Jan - my S.I.S. Group (Sisters in the Spirit)
Psalms 133:1 - Behold, how good and how pleasant it is for (sisters) to dwell together in unity.
Special long time friends, Pat and Charlotte planned my birthday party as well as another long-time friend, Cindy (I'll point her out in another picture).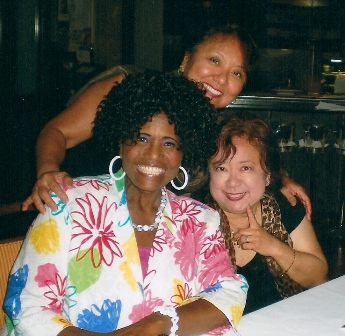 Ms. Lillie, Charlotte and Pat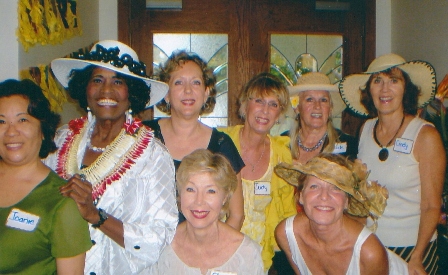 Ms. Lillie with friends
(with Cindy on the far right)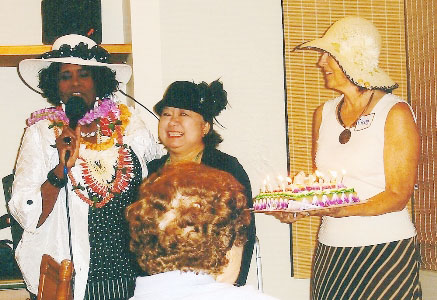 Ms. Lillie with Party Planners:
Pat and Cindy
There was lots of good food .... I was happy to be with them all .... remembering all the times of fellowship we have had down through the years. I re-wrote The Gaither's "Old Friends" .... it was about them .... which they enjoyed.
Another great meeting was with a group of 18....they are ukulele players....all over the age of 80. They meet each week for rehearsal....invited me to come and they invited 62 friends, so I was able to share that they should "Live till they die." What a great group! I loved hearing them play....I remembered as I listened to them....that when I lived in Hawaii, I learned to play the ukulele (a little bit

). I even have a video of me singing and playing (at the same time....several songs). Now I can play no longer, because I stopped.
Many of you might remember I moved to Hawaii 1983 to work with the Waikiki Beach Chaplaincy....a Ministry that conducts services on the beach at the Hilton Hotel each Sunday for more than 40 years now. They conduct Bible Studies and Breakfasts each week.....I was able to share at one....to my surprise, they had a birthday cake for me. Chaplain Alex is my special friend.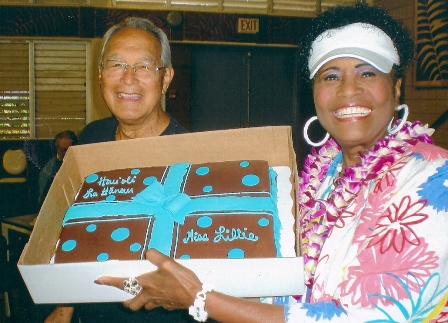 Chaplain Alex and Ms. Lillie
Did you know that the first time you must have your driver's license renewed after the age of 70, you will have to take a written test? Well, I didn't know that....and when I learned that....I began reading and studying the Driver's Handbook .... even though I have been driving for nearly 60 years, never get tickets, the written test for me was something I did not expect. I prayed and God helped me. I passed.

Of course, my actual birthday is April 30th. The Hawaii Birthday Party was held because I wouldn't be there on that day. So, for my birthday, here in Rancho, this is what I planned to do....just relax....open my cards....read them....and I know I will cry alot. I am so blessed to have a wonderful family and good friends in my life.
Eccl. 5:20 - For "(Lillie) will not dwell unduely on the days of her life, because God keeps her busy with the Joy of His Heart.
It was a wonderful three weeks in Hawaii....actually I got lots of rest and relaxation. We all need some time away, huh? It has been 33 years since I began in full-time ministry, and God has permitted me to travel the World with the Good News in Word and song....I love the opportunity He has given me and never want to retire. I want to continue until I am called Home and hear His voice say "Well done."
The message of Easter is all about Life, Hope, Joy, Peace, Light and Triumph. And it's all mine .... and it's all yours .... we never need to walk in shame, despair, discouragement or fear .... because we know that in every circumstance, God is there. He will work through your situation .... all He asks is that we trust His Word and believe His Promises.
I am very aware that the World's economy is in a recession....but there is no recession in God's economy. He has been faithful to supply all of my needs as He has promised and I hope that you have the same testimony.
Phil 4:6 - In everything by prayer and supplication with thanksgiving let your requests be made known to God.
I would love to come minister in your Church .... your Senior's Group .... Ladies Luncheon. You will NOT be disappointed. God will use me to speak or sing for you.
For those of you who send gifts to me, I must tell you how grateful I am. Remember you will receive a tax- deductible receipt from the Ministry Headquarters in Springfield, but best of all .... it will be added to your account in Glory. Feel free to call me 909-948-2448 anytime or send me an e-mail.

See ya next time.....


Happy to be His Handmaiden,