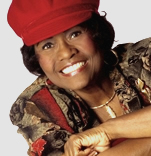 April 2013
April is my birthday month .... and my scripture for the month of April is always:
Ecclesiastes 5:20 - Lillie seldom reflects on the days of her life, because God keeps her occupied with gladness of heart.
Since I was just a little girl .... I have loved birthdays .... and not just mine .... if you have been a friend for many years and I know when your birthday is .... you are aware how I try to make you feel very special on your birthday .... singing to you .... telling you how very precious you are to God and .... me.
Special and sincere thanks for the many birthday greetings. I had 66 E-Mail birthday messages .... most of them had to be "watched," not just read. There were singing owls .... dancing dogs .... talking flowers

.... it was so much fun reading those kind messages, plus the many cards arriving in the US Mail. You will never know what it meant to read those kind words .... I cried alot. Thanks again for your kindness.
I had been looking forward to my 75th birthday cruise since I had my 70th ....

and since I would be getting on the boat in Florida .... I booked myself for ministry .... in Orlando area for 2 weeks .... what a blessing to be able to stay with my long time special friend, Shirley Balmer-Jordan in her lovely condo. She is an incredible pianist and played for me at some of my concerts. Our time at Disney was great.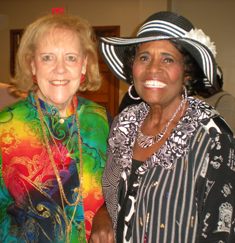 Shirley and Ms. Lillie
As many of you know I regularly minister in prisons .... here in my area .... the Chino Prison for Women .... and am so grateful to God for the opportunity. Mr. Dick, who goes regularly to the Orlando Jail asked if I would do a fundraiser for that ministry .... he mentioned the Bibles and materials he needs to give to the inmates. On the program that night, the head Chaplain spoke so highly of Mr. Dick .... (who is blind) .... but is permitted to walk the halls with his cane .... going in and out of cells bringing "God News" .... the head Chaplain stated that Mr. Dick is "no threat" to anyone and is free to roam the halls all he wants .... and has been doing that for many years .... he is loved by all. On the program also, was a young man who was in Bible studies conducted by Mr. Dick .... who when he was sentenced went to serve his time in prison .... and was able to teach that Bible study while he was incarcerated. He is now out and wanted to come and honor Mr. Dick .... to thank him for pouring into his life .... it was quite a night .... the Minister of Music had prepared the choir for an old fashioned hymn sing .... we had a wonderful time glorifying God and investing in this Ministry.
Matthew 25:40 - And The Lord will answer, "Assuredly I say to you, in as much as you did it to the least of these, you did it to Me."
I had a great meeting for a senior group .... at Orlando Baptist .... there was a large group for another old fashioned hymn sing .... as the older folk love to sing the old songs .... since we usually cannot hear them in our churches

.... I was asked to sing in the 2 morning services also .... and my, Pastor Janney is a great speaker .... the Senior Pastor, Don, was with Rev. Jerry Farwell for many years .... God blessed!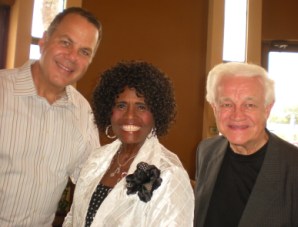 Pastor Janney, Ms. Lillie, Pastor Don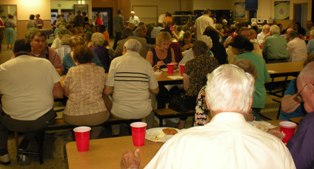 Meal after the hymn sing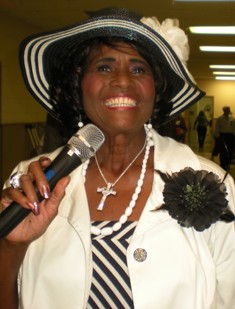 The huge First Baptist Church had me come for their monthly seniors group .... a first-class luncheon .... I shared how they must "LIVE UNTIL THEY DIE" .... have had great comments about that day.
Wow! To be reunited with my long-time friends, Bruce and Lisa Hughes, was exciting .... they are the Music Directors at a great Methodist Church .... he had the choir ready to sing 3 songs with me (I love that) .... and I know God ministered to hearts and lives .... I had met the Lead Pastor, Scott George when I lived in Orlando those 6 years .... he is a dynamic preacher.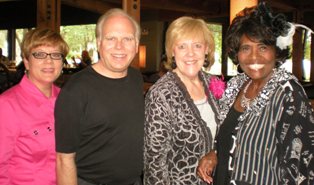 Lisa, Bruce, Shirley and Ms. Lillie
A drive to the Tampa area .... where I was able to minister in an exciting church .... for a Vintage service .... they are a vibrant group of seniors who God spoke to through the song and message..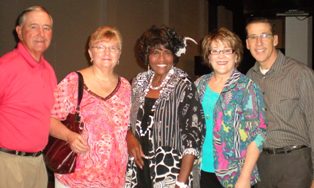 Mr. & Mrs. Russo, Ms. Lillie,
Pastor & Mrs. Ed Russo
I was very excited to be asked to tape for TBN Studios at The Holy Land Experience. There was even an interview .... if you ever see my interview or my songs, please let me know as I have no way of knowing when they will be shown. Thanks.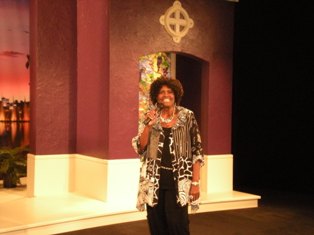 Ms. Lillie singing at TBN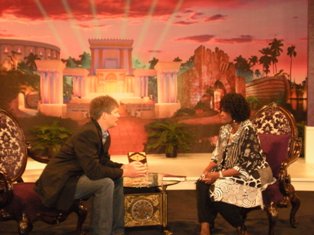 Pastor Rick Vanger Interview with Ms. Lillie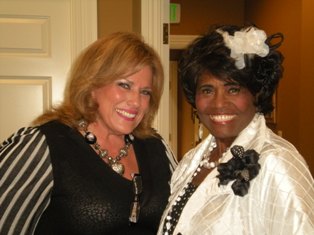 Ms. Oralena (Stage Manager/Program Director) and Ms. Lillie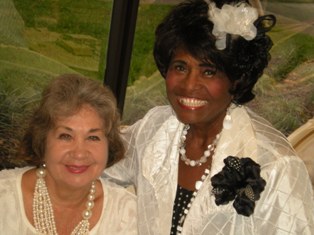 Long-time friend, Ms. Betty (TV 52 Receptionist) and Ms. Lillie
As most of you know, I lived in Orlando for over six years and of course, went to Disney often .... but since moving back to California, I have not been for several years. I began to inquire around .... if anyone knew someone who could give me discount .... well, I met someone .... who knew someone .... who knew someone

.... and I was able to contact them. What a real gift from God because it is normally $90 to get into each park (there are four) .... but we were signed-in and permitted to go to all four parks .... after 13 1/2 hours and fireworks .... we were on our way home .... what a day.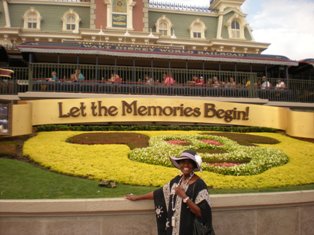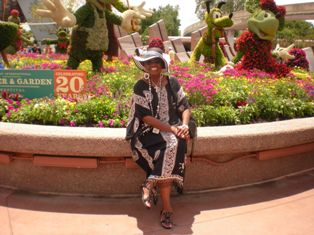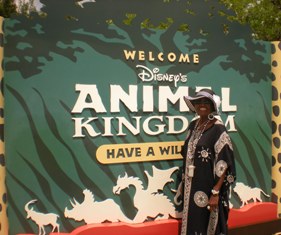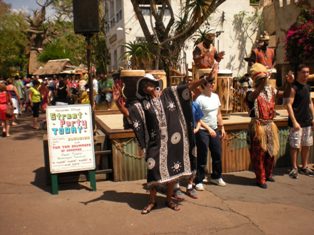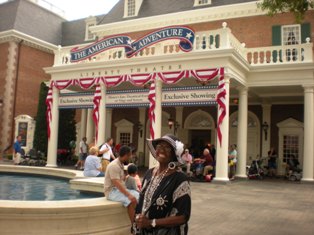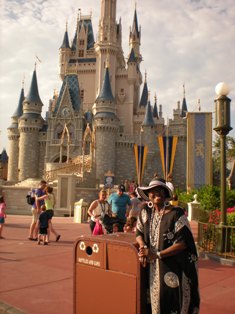 Then I was ready to drive down to Fort Lauderdale .... to board the "big boat" .... I knew that I had to be on the boat by 3:30pm on Sunday .... so I thought "well, I could book myself in a church for a service" .... if it was close to the dock"

.... and yes, I was able to minister in a church in Plantation, Florida .... pastored with a long-time friend .... Pastor Paul .... who had 2 services .... 9am and 11am .... he said that he and his sweet wife Janice would be able to get me to the dock in 20 minutes .... and that is what happened .... the services were very special .... I was so blessed by his message .... all about the sparrow being in God's care and so are we. We arrived there in plenty of time.
What a sight when you first see that boat .... WOW! You may want to go online .... look up The Allure .... and view it .... it is 21 stories tall .... more than 8,000 guests .... plus 2,600 crew .... and is fabulous. I had a lovely king room with a balcony, in the middle of the ship on the 10th floor .... a perfect location ....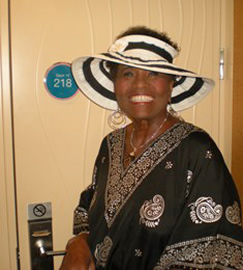 This cruise was a gift from a dear 92-year old friend, she is with Jesus now .... I thought of her often as I walked around .... I did enjoy myself.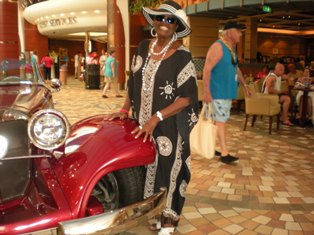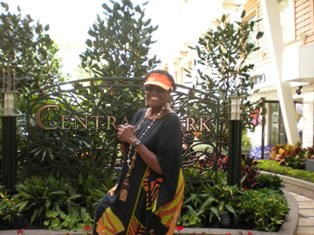 walking through Central Park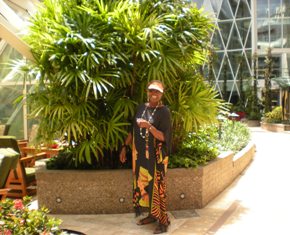 CLICK HERE TO GO TO
NEXT COLUMN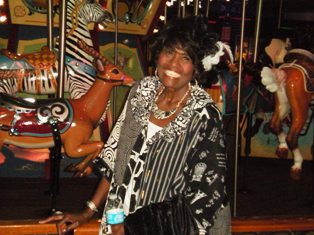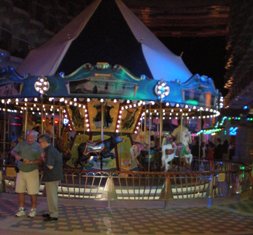 .....the Boardwalk.....with a carousel.....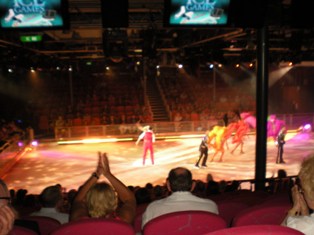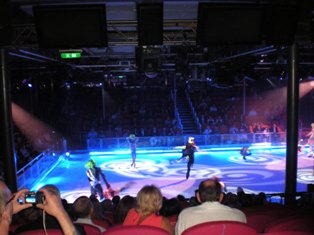 A big ice skating rink (not for me)

.... but I did attend the ice show .... with the top Olympic ice-skaters.
A real highlight was the headliner show, a singer/dancer Vegas-style, with an incredible voice and stage presence.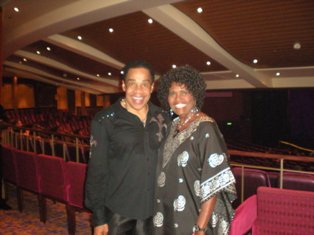 Earl Turner and Ms. Lillie
There were 2 comedians .... I enjoyed on the "family night show" .... was clean. I love to laugh. Life can be funny.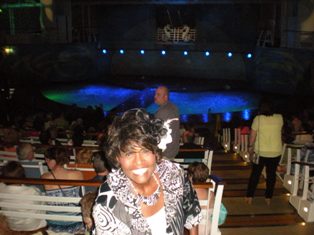 Another exciting thing was the water show ..... top Olympic divers with precise diving abilities.
And then there is the food .... oh my! ... all the food you want to eat in the 3 dining rooms 3 times a day .... plus room service 24 hours a day .... and all of the restaurants as you walk the ship .... I did gain 6 lbs .... but I have lost it .... when I returned to eating just regular food and smaller portions.

I absolutely love to dress in formal attire for dinner.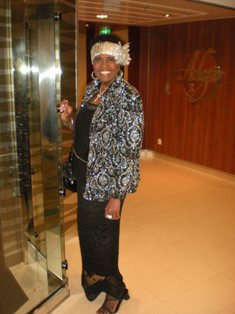 After dinner I went down to take a picture with the Captain.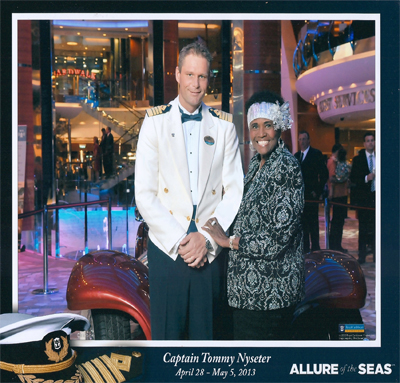 On Tuesday April 30 (my birthday) .... at dinner .... the waiters and friends made it a special time singing to me .... it was a fun night.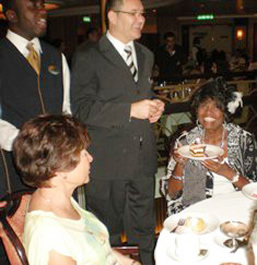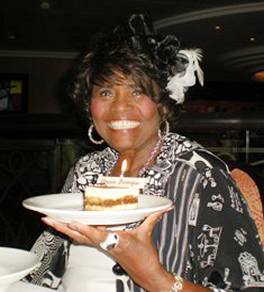 Happy 75th Birthday
Because I knew I would be on the ship on the National Day of Prayer Thursday, May 2, I did want to have a service to observe it .... I was given permission to have it in the chapel 7am and 3pm .... what a blessing! And God arranged that the ship officer who delivered the CD player for the service .... was a Born Again Christian .... had lost her Mom and really did need that service .... God ministered to her in a precious way .... it was a great day!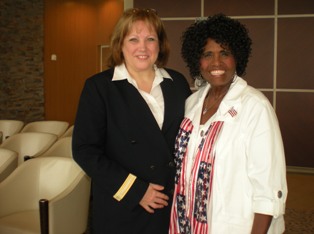 Senior Ship Officer, Arlene and Ms. Lillie
I had asked different people to pray for specific needs in our Nation and the world .... I read the prayer written by this year's Honorary Chairman Pastor Greg Laurie .... it was powerful! We asked God for mercy .... to forgive us and revive us. I am grateful that God has used Mrs. Shirley Dobson all these years to encourage us to pray.
As I returned to my room between the services, there was a gorgeous vase of red roses .... the card was from a senior officer ... when I called downstairs to ask "why the flowers?" .... his reply .... "well, when I waited on you at the desk .... you mentioned this was your birthday cruise .... you were so upbeat and joyful .... I wanted to do this for you WOW! God is good!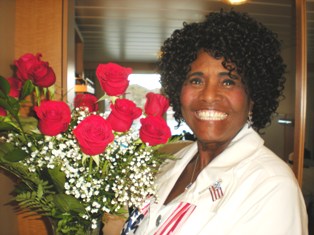 Each day was a great adventure for me .... and I do love the talent night .... I actually have 6 awards .... I have been given for winning the talent contests through the years on cruise ships .... it is a fun time for me .... I sang "O Happy Day" .... the crowd was very receptive .... out of the 10 who sang .... the voting narrowed it down to 3 of us .... we each had to sing another song .... I did Route 66 .... then the voting narrowed it down to 2 of us .... me and a girl from Brazil .... and she won .... but I came in 2nd.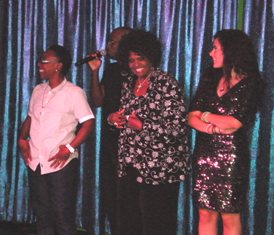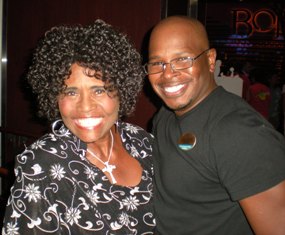 Ms. Lillie and Talent Night Coordinator, Ivan
After that night, folk would stop to compliment my singing on talent night .... as well as many had seen me on the Gaither Videos and wanted to take a photo. So I met and made many new friends.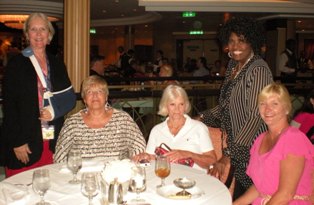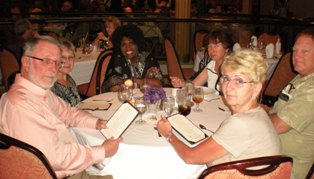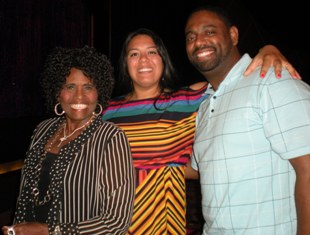 The week went by sooooo quickly .... and because I had been to Nassau .... St. Thomas .... St. Marten, I did not go into town .... I just stayed on the ship. There were many fun things to do. I had fun doing some of the dance routines.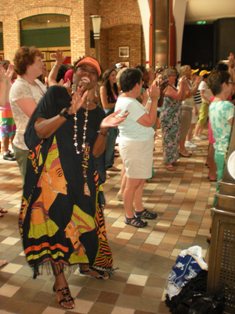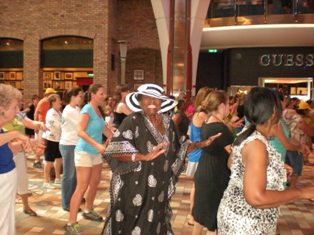 As I was planning this cruise, I had also thought .... "well, we come back into Fort Lauderdale on Sunday morning at 7am .... maybe I could sing at a church that has a later service" .... and it happened.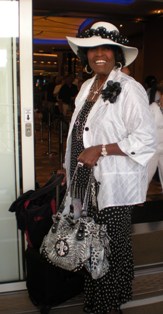 Ms. Lillie leaving The Allure for church
The service began at 12 noon .... (was that perfect or what?)

.... they had a driver come get me .... it was 40 minutes away .... and what a church service! .... good music and preaching from a 34 year Pastor .... he was anointed .... I loved it and realized I had not gotten out of church at 5pm on a Sunday for years.

So, now I am back home trying to catch up on all my bundles of mail .... (remember I do not have a secretary) .... so I have been busy and am almost caught up .... thank God! I hit the ground running and will be very busy the next few months .... and excited.
John 9:4 - I must works the works of Him who sent me, while it is day: for night comes, when no man can work.
I am so grateful to God for his kindness to be my source these 35 yrs of fulltime Ministry .... He does take care of me .... and has since he called me to "hang-up" on Ma Bell to proclaim the Good News around the world .... what a great life I have. I want to thank you who so loving pray and give to this ministry. You will be rewarded for all you do .... remember all financial gifs are tax- deductible and you will be sent a receipt.
It was wonderful to get away for time of R & R. I was able to give many tracts away with tips inside .... so I know seeds were planted .... it was obvious that God was not first in most of the hearts of the guests. My prayer is that the seeds I planted will grow.
Romans 1:16 - I am not ashmaed of the Gospel of Christ, for it is the power of God unto salvation to all who believe ....
I had great times of fellowship with friends .... just talking about the goodness of God .... and seeing God's beauty all around me made me more aware of Our Creator.
II Corintians 13:11 - Finally, brethren, farewell. Be complete, be of good comfort, be of one mind, live in peace, and the God of Love and Peace
will be with you.

Until next time.....


Happy to be God's Handmaiden,