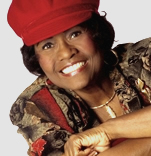 December 2012
No matter how hard the atheist .... and ACLU try to turn the thinking .... Christmas is still one of the most celebrated days of the year …. admittedly, many have no real knowledge of the "Reason for the Season" …. so they choose to celebrate the secularized version for this day .... buying presents for everyone .... even going into debt .... attending parties .... Santa Claus .... reindeer, etc. …. but millions of us are right on track and acknowledge that .... of course, the presents are nice …. but the Real Gift was sent to this world according to that familiar scripture from our Heavenly Father's Heart of Love He sent his Only Son Jesus …. to redeem mankind from the "sin curse."
John 3:16 - For God so loved the world that He gave His only begotten Son, that whoever believes in Him should not perish but have everlasting life.
Jesus left the Throne Room of Heaven to come down to this Earth to redeem us …. we were destined for eternal separation from God …. but Jesus came …. and salvation is ours because of His death on the cross and the victorious resurrection.
I was part of two special programs the beginning of December …. a ministry called "Character Counts" …. they are able to go into schools, give the kids books and a CD that tells about character …. of course it all comes from the Bible …. as that is where we get our values …. what a ministry! Let me know if you want to know more about it …. I am very excited about them.
The first two banquets I ministered for were similar in nature …. as each table was decorated by a hostess who had brought all the table settings and decorations from her home …. and I saw sooo much creativity in those rooms …. look at these photos …. get the picture?

I was told the doll on my table was worth thousands …. I had to get a photo of her …. Isn't she cute? I was hoping the hostess would say I could bring her home with me …. there was a train that ran around and round the track. The ministry was wonderful both those nights. I again told the Christmas story …. it should never get old .... as we are reminded each year about "The Gift."
2 Corinthians 9:15 – Thanks be to God for His indescribable gift!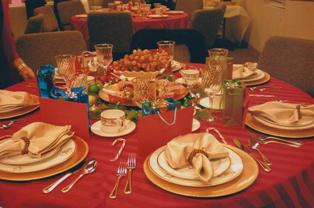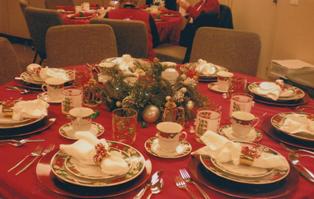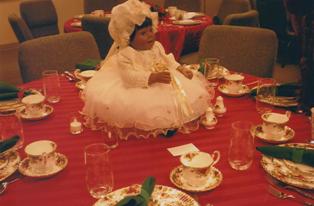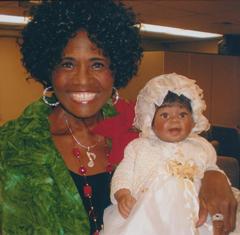 Ms. Lillie with newly named "Miss Lily"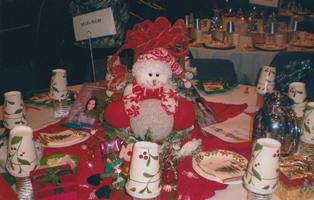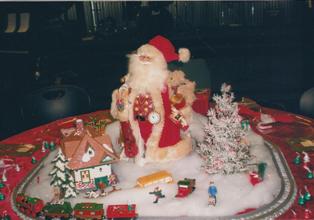 Moving Train
A very exciting time of ministry for 350 women at a church in the desert …. many of the ladies wore red …. it was a fabulous luncheon …. my two friends and I prayed for God to touch hearts and lives …. I know He did …. for when they left the room, many ladies shared with me how their hearts were moved …. I am always excited when God answers prayer and does that.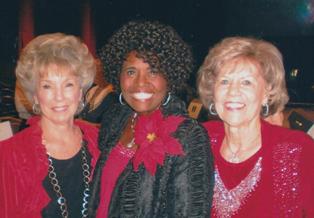 Ms. Daisy, Ms. Lillie and Ms. Melba
Isaiah 55:11 - So shall My Word be that goes forth from My Mouth; it shall not return to Me void, but it shall accomplish what I please, and it shall prosper in the thing for which I sent it.
What a great opportunity for me to go minister in Chino Women's Prison again …. it was the first time I had gone at Christmas time …. so I was able to tell the Christmas story …. and share with them "The Gift" …. I must say that I sense a real revival there …. you can be free even when you are locked up …. just as one can be in shackles even though not in prison …. please remember all those precious women there. This time of the year it is even more difficult I am sure to be away from family and friends.
John 8:36 - Therefore if the Son makes you free, you shall be free indeed.
I love to laugh …. so when I had an opportunity to hear a Christian comedian a few nights ago …. I jumped at it …. He is very funny …. just tell stories of his childhood, etc. I was able to get a photo with him.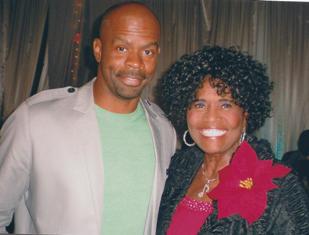 Christian Comedian Michael Jr.
and Ms. Lillie
I was able to share at a Senior's Center to many precious folk …. I did some secular Christmas songs …. classic Christmas carols …. I love to share a poem someone sent me comparing Santa with Jesus Christ …. I liked it so well, that I recite it at the end of the songs on my Christmas CD …. you will love hearing it …. do you have my Christmas CD? You can visit my product page (click here) and of course, I sang beautiful songs about the birth of Our Lord and Savior Jesus Christ …. told the story of why Jesus came …. and that "The Gift" is theirs if they want it …. remember whatever we need is found in That Gift …. Jesus Christ …. unlike the day after Christmas when many gifts are exchanged …. this is one we will not want to ever exchange …. for Father God knew just what we needed …. and sent it …. and in "The Gift" is whatever we need. Are you facing something strange (you never expected that to happen …. and you are asking God why?) …. you have grace for that time …. perhaps many folk are pulling at you from many different ways …. they are needy …. well, there is strength and patience for those times.
I have written several times in my newsletter about a wonderful lady God brought into my life three years ago; Mother Mary Ellen Strong. She was speaker for a Women's Conference …. as she spoke with the anointing .... I had never heard a more powerful message …. someone mentioned that I should meet her because she loved watching the Gaither videos …. when we met, there was an instant connection …. I loved her …. she told me God said that she should mentor me …. so for three years, I spent an hour or two a week just letting her pour into my life …. I loved spending that time with her …. it was really what I imagined .... sitting at the feet of Jesus …. she walked and talked so closely with Him …. and all knew it …. she told everyone she met about Jesus ….. when we would be in a restaurant, etc. ….. she talked about Him in such a gracious way …. presented Him to all she met ….. I knew of wonderful results when there was an encounter with her …. I helped her celebrate three birthdays …. her 88th, 89th and 90th …. I guess I just thought she would be in my life forever …. but God saw fit to call her to "come home" …. those last few weeks she didn't always know me …. and that was disappointing …. and very difficult because she was always so bright and alert. I was asked by her daughter Carolyn …. asked if I would sing at the end of the memorial service …. she wanted "When the Saints Go Marching In" …. it was an honor for me. My, do I miss her …. but I know I shall see her again.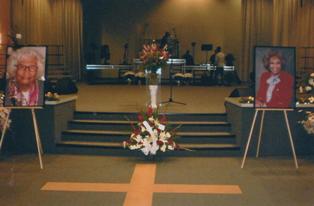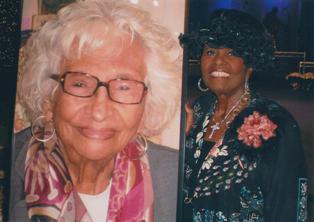 Mother Strong and Ms. Lillie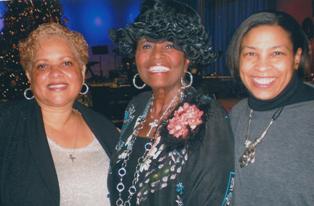 Daughter Carolyn, Niece Stacy and Ms. Lillie
Psalm 116:15 - Precious in the sight of The Lord is the death of His saints.
What an opportunity I had to sing for a church banquet at the church of a wonderful man of God …. Pastor Doyle Hart …. a precious, anointed preacher who has been in the Ministry .... preaching and pastoring for many fruitful years …. soon he will celebrating his 91st birthday …. what a life!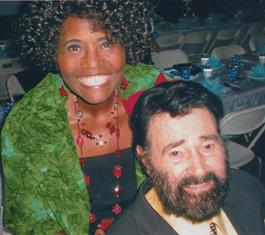 Pastor Doyle Hart and Ms. Lillie
One of my favorite places to speak/sing for a Christian Women's Connection is in Fallbrook .... held at a gorgeous facility .... The Grand Tradition. It was all decorated for Christmas .... the meeting was especially good because a long-time dear friend, Claudine, was present. In fact, I just happened to be visiting her family for my 40th birthday (35 years ago). She planned a fabulous birthday party for me with 40 guests. I'll always remember her kindness. It was a thrill to have another special guest at that meeting celebrating her 103rd birthday.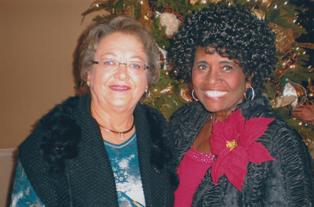 Claudine and Ms. Lillie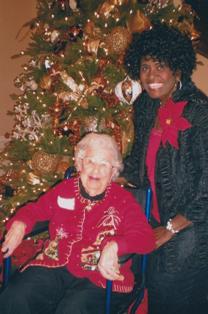 103-year-old Anne Beversluis and Ms. Lillie
The angel said to the shepherds who were watching their flock saying "Behold I bring you good tidings of great joy which shall be to all people" .... that means you. May you experience the joy and peace of this season that was proclaimed many years ago. Rejoice and feel His peace each and every day in your home .... and with your family. Jesus is Emmanuel, God with us.
As you are planning your calendar for 2013, I am available to come minister in Word/Song for Churches, Senior Groups, Ladies Functions .... you may call me and we'll see what date works .... you will not be disappointed. God will use me to bless your group.
Thank you for your prayers and kind gifts this year and through the years. When you sow into this ministry, you will receive from God and a tax-deductible receipt.
2 Corinthians 9:6 - He who sows generously will reap generously and with blessing.

Until next time.....


Happy to be God's Handmaiden,