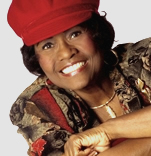 February 2013

As we began this New Year .... I sensed in my spirit that we must "wake up" because I believe the end of the ages is coming closer .... there is still soooo much still to be done for the Kingdom .... and because we are facing many challenges .... we must each be equipped to do what God has called us to do .... the harvest is great but of course God is greater still .... and He will empower us.
February, the shortest month of the year .... is over .... wow! .... and it seems that this New Year 2013 just began .... I am excited to be busy proclaiming the "Good News" as I am still blessed to travel full-time even at my age. I am planning to celebrate my 75th birthday with a fabulous cruise (click here for details) .... there is still time and room for you to come along.

I just received something in the mail from a long-time friend .... that brought back a lot of memories .... it was a poster from 30 years ago .... I was on a program with Joey at a great America park in San Jose ....
.... so much fun .... can't get over how I look kinda the same

.... Joey has a radio blog .... asked me to be a guest on it .... you can tune in and listen .... click the following link:
www.blogtalkradio.com/livefromthebay/
2013/02/16/ gospeljazzblues-legend-miss-lillie
Because I will be away on tax day .... I am sooooo busy trying to get my taxes all taken care of before the cruise .... I do wish we were asked by the Government to just send 20% (the same amount we give to God) to the IRS and forget all this .... being able to deduct this .... but not this .... etc .... I guess it would put a lot of IRS agents out of a job

.... but it would certainly be easier for us .... huh?
If I am in the desert, I am able to attend the fantastic hymn sing which is held the 2nd Tuesday of each month in Palm Desert at the Presbyterian Church on Hwy 74 .... it begins at 6:30 pm. I was blessed to be at the very first one held in a home .... 10 years ago .... it has grown and grown to the point that now attending each month are as many as 275 .... some "snow-birds" .... others who live full-time in the desert .... what an air of excitement as we gather! .... just knowing that we will be singing songs we all recognize

.... the wonderful hymns of the church .... we sing songs about a different theme each month .... of course February 12th .... being close to Valentines' Day .... all the songs were about the Wonderful Love of Father God and Jesus .... how "God so loved the world .... that He sent His Only Son Jesus to this world to pay the penalty for all our sins, and if we believe, we don't have to perish .... but we can have everlasting life" .... my, what glorious songs we sang .... I was asked to sing a song .... in fact it has to be my favorite Christian "love" song .... I sang "The Love of God" .... it is on my latest CD (click here) .... I think you will enjoy it .... if you are ever in the desert on the 2nd Tuesday .... please come by .... you will be blessed!
Colossians 3:16 - And whatever you do, in word or deed, do everything in the Name of The Lord Jesus, giving thanks to God the Father through Him.
I love to laugh .... in fact we should all laugh more than we do .... even though you may be thinking that there is little to laugh at .... you can find something

.... my Doctor told me that laughing massages the insides of your body .... and we all know what a body massage feels like at the spa .... well, think about it .... that is what is going on inside when you have a good belly laugh each day .... I read that small kids will laugh as many as 300 times a day .... whereas an adult often laughs only 17 times a day .... so I love when I can go to hear a Christian comedienne .... which is what I did this month .... it was my friend Chonda Pierce .... wow what an evening it was! .... she is extremely funny .... but at the end, she closes the meeting with an incredible testimony and a powerful song. On the program with her, were "The Martins" .... that talented brother and 2 sisters .... they were soooooo good .... I especially love when they sing the accapella songs wow! .... I read that these 2 acts will be traveling a lot together this year .... so when they come to your area .... go hear them .... what a night you'll have!
Proverbs 17:22 - A merry heart doeth good
like a medicine .....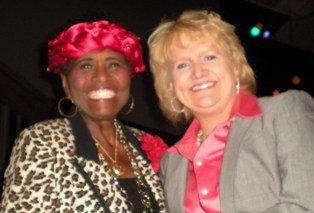 Ms. Lillie and Chonda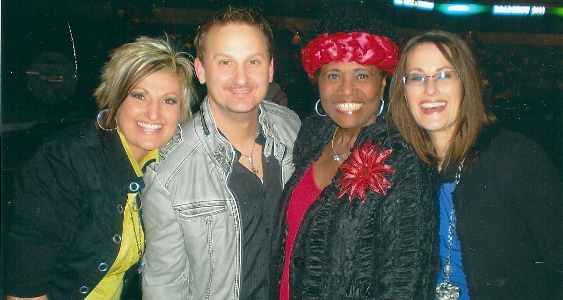 file photo of Ms. Lillie and The Martins
(They were so busy at their product table, I didn't want to take them away to get a photo,
but I had this one on file)

I was speaker/singer for a Ladies Valentines Hat Tea at a lovely RV park in Desert Hot Springs .... down near Palm Springs .... I love it when Ms. Joyce and Ms. Barbara invite me to come .... the hall was beautifully decorated .... with lots of hats .... one lady showed us hats her grandmother wore .... that were purchased in the late 1800's .... and many in early 1900's .... which many of the ladies wore .... what a fun day .... my message was how to "Deal With The Mess of Stress" .... and I will say to you what I told them .... God told us how to deal with it .... "give Him our worries and cares" and be anxious for nothing, often that can be difficult for us, but that is what we must do.
I Peter 5:7 - Cast all your anxiety on Him because He cares for you.

Psalm 55:22 - Cast your cares on The Lord, and He will sustain you; He will never let the righteous be shaken.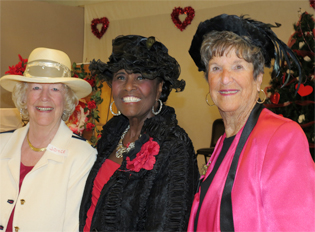 Ms. Joyce, Ms. Lillie and Ms. Barbara
Are you aware that every 3 years .... you can attend a safety driving session for senior adults .... and get a discount on your car insurance? I attended one this month .... I only have to go for 4 hours, because I have attended the 8-hour one for so many years .... I think each senior adult would certainly benefit from the course .... as there are always new rules and laws each year that we need to know about .... so you might want to check it out .... it is very important that we stay informed.
Again, what an opportunity I had to speak/sing for a group of precious senior adults .... in a chapel service .... they love to sing along with the old wonderful hymns .... I never like to close a program without inviting those who do not know Christ to accept Him as Lord and Savior .... because of course, none of us know when we will be called Home .... but because they have lived into their 80's and 90's .... I want to make sure they know that they will spend eternity someplace either Heaven or Hell .... I make it very clear .... I have them repeat the Sinners Prayer .... and only Eternity will tell what happens in those services after I have gone Home. I always pray God to draw them.
John 6:44 - No man can come to Me, except the Father which hath sent Me draw him: and I will raise him up at the last day.
I've mentioned many times how it has been my privilege to support Teen Challenge for many many years. I'm able to go minister there on a regular basis at "The Castle" here in Riverside. My heart is always touched when I hear testimonies from the men who have come to know Jesus through the Ministry at Teen Challenge.
John 3:17 - For God sent not His Son into the world to condemn the world; but that the world through Him might be saved.
My long time friend, Samantha, has been hosting Celebrity luncheons for 27 years in the desert .... they are always special times to hear Christians who are Celebrities.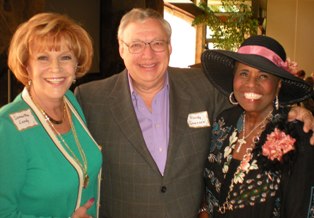 Samantha, Husband Randy and Ms. Lillie
What a joy to be asked to sing for this luncheon .... with speaker Gavin MacLeod .... the "Loveboat Captain"

.... what an incredible testimony of God's special plan for his life. We were all moved to tears.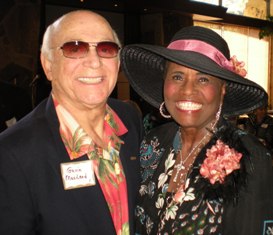 Gavin MacLeod and Ms. Lillie
How nice to see another old friend and what a Celebrity she is! .... Miss America 1982, Cheryl Prewitt-Salem. I love when she and Harry minister together .... powerful!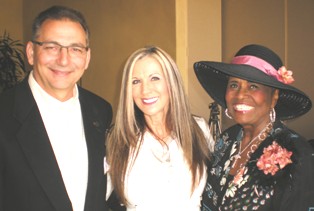 Harry, Cheryl and Ms. Lillie
I greatly appreciate your prayers and support .... many of you tell me you pray for me regularly .... and that really does make me feel good

.... and thanks to those of you who have sent financial support to me. Your gifts are an investment in this Ministry .... this is good ground and will pay off in Eternal Returns .... as well as a tax receipt here and now.

I pray that God will reward you abundantly.
2 Corinthians 9:10 - He who supplies seed to the sower and bread for food, will supply and multiply your resources and increase the harvest of your righteousness.
I would love to receive e-mails from you .... let's keep in touch .... please let me know how I can pray for you also .... and I will .... and as you are planning your calendar .... please know that I would love to come minister in your church, women's group, senior adult ministry .... please call me at 909-948-2448 .... and we'll talk

.... and you will not be disappointed! God will be glorified and lifted up.
May The Lord of Lords and The King of Kings continue to bless you and keep you in His care as you face difficult tasks .... unusual challenges .... severe discouragement .... yes, it seems bad .... but God! .... He is with us .... He is true to His Promises .... we can always believe what He says .... He will work everything out for our good .... and won't leave you to fight battles alone.
Romans 8:37 - In all these things, we are more than conquerors through Him who loved us.
Until next time.....


Happy to be God's Handmaiden,