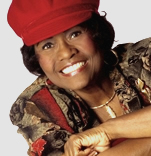 Jan. 2010
Happy New Year. However, my Pastor wanted us to always say "Happy New You," because he stressed that we could not have a Happy New Year unless we ask God to change us....to make us New.

May The Lord bless you richly in 2010. By the way, we are told that we should say "Twenty-Ten" because we have always said "eighteen hundreds .... nineteen hundreds ...." so it seems right to say "Twenty-Ten"....whatever that information is worth to you.
My prayer for you and me, is that we will work as never before in the assignment we have been given by God .... we know that the days are quickly passing and the time is shorter than when we first believed.
John 9:4 - I must work the works of Him who sent me, while it is day, for when night comes no man can work.
This year began in a great way for me....I had one week off where I did nothing....but rest; for my Christmas time had been very busy. And remember, I am not as young as I once was.

But then again....I guess neither are you.

Ecces. 5:20 - For (Lillie) will not dwell on the days of her life, because God keeps her busy with the joy of His heart.
Isn't it exciting to remember how faithful God has been to us? I can say that as He has provided for me in the past, He will certainly provide in the future....His Word promises that. Each day I am reminded that He called me from the Telephone Company where I had planned to simply work thirty years and retire with a nice pension....at a young age and just enjoy life. Well, God had another plan, because eight years short of the thirty years, I heard the call to step out into full-time Ministry. And here it is, thirty-two years later, that I have traveled the world proclaiming the "Good News" through song as a "Musicianary." What an assignment! I have always heard that "Where God Guides, God Supplies," and I can truthfully say that is so true....He has supplied all my needs these years I have been in full-time Ministry. Thank you, Lord!
Matthew 6:26 - Look at the birds of the air, they neither sow nor reap, or store away in barns, and you are more valuable than them.
I love the opportunities I have to speak/sing for snowbirds in the Palm Springs area in our California winter months. There are folk from all different denominations worshipping together and I am able to present the Gospel to them.
Most of you know I lived in Hawaii for nearly ten years, in fact I celebrated my 50th birthday there....called it "Hawaii Five-O." Here is a photo from 22 years ago.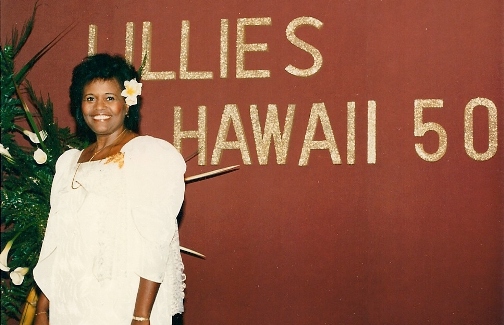 I worked with a Ministry called the Waikiki Beach Chaplaincy. They conduct services on the beach each Sunday morning at the Hilton Hotel. In January, I went to Honolulu for the 40th Anniversary Celebration. It was wonderful .... seeing old friends who at one time also worked with the Ministry return for that special event. What a great evening of hearing the history of the Chaplaincy....the things happening now....and the projection for the future as long as the opportunity is there in Waikiki. Here I am with some of my special friends.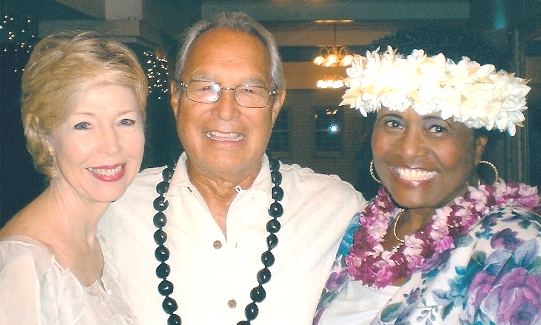 Ms. Lillie with
Current Chaplain Alex McAngus
and his wife Sharon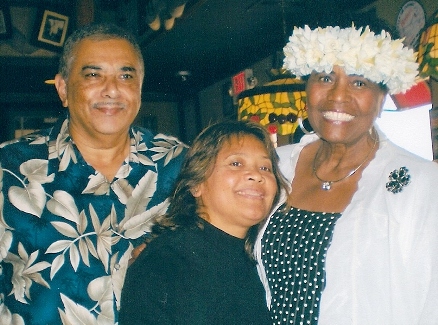 Ms. Lillie with Chris & Beckie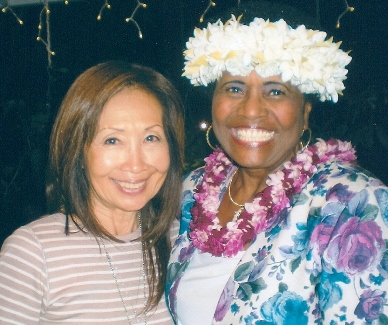 Ms. Lillie with Colleen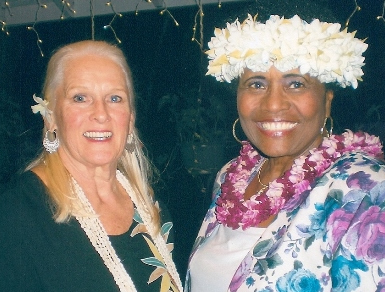 Ms. Lillie with Maile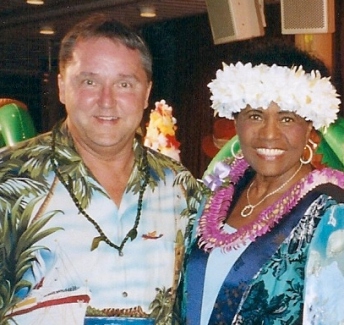 Ms. Lillie with Brian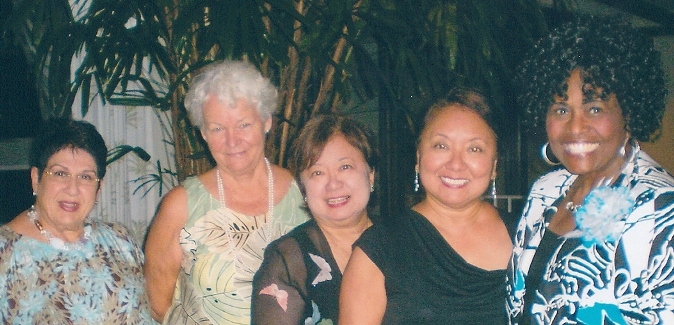 Ms. Lillie with Sheryl,
Therese', Pat & Charlotte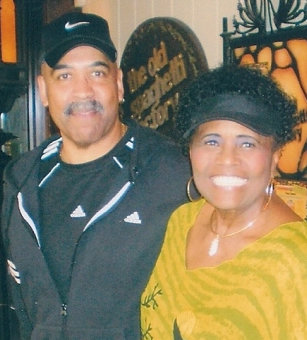 Ms. Lillie & Selwyn



Ms. Lillie - Hawaii 2010
I was blessed to minister in some churches while on the Islands. I love when I am introduced to minister... that a man from the church will come forward with a gorgeous lei....place it around my neck....and give me a kiss...WOW!

The folk who live on the Island are so warm and giving. I read that they are the kindest drivers in America ..... always giving you an opportunity to merge, cut-in, etc....and I know the most gorgeous sunsets are in Hawaii.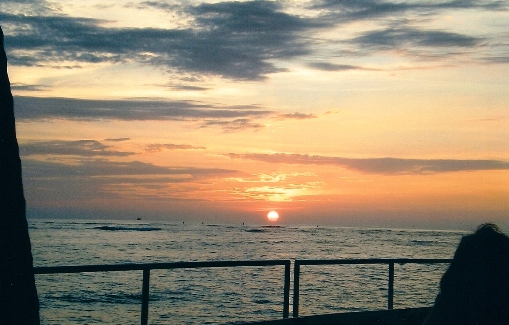 Feb. 2010
In the late 60's and early 70's, I was a part of some very exciting things. Of course, being a part of The Edwin Hawkins Singers, our #1 hit "Oh Happy Day" was heard around the world. We were traveling all-over.
The other most exciting thing....I was part of is a monthly sing-a-long conducted in Los Gatos by Audrey Mieir. What a great songwriter .... among the many songs she wrote...."His Name is Wonderful," "All He Wants is You"...."It Matters to Him About You." Folk would pack out the church early in the evening for those incredible meetings. I was able to sing, usually at the end of the service. We became great friends. I loved her very much....she became "my other Mother." We talked on the phone regularly. I always asked her to pray with me about decisions I needed to make. She was so wise in dealing with me. I am happy that God placed her in my life. I was able to sing her song "It Matters to Him About You" at her homegoing service. In Palm Desert each month, there is a Hymn Sing, a couple hundred snowbirds and locals gather the second Tuesday of each month to sings Hymns....and the songs we don't get to sing in most churches these days.

Last month we sang Audrey Mieir songs. What a blessing! I was asked to sing three of her most favorite songs....and mine. There was a special anointing in that place that night. Audrey was a gift from God to the world.
I took time out for a little fun. The Harlem Globetrotters came to town. My dear friend, Elaine, went with me.
Proverbs 17:22 - Laughter does good like a medicine.
I am so excited when I am able to speak/sing for a Women's Group. I went to Oakland for such a meeting....at a church I had heard about for many years when I lived in San Jose. The University and Church....founded by Dr. B.B. Patten. It's sanctuary is gorgeous and the folk are so kind. Here is the Ladies Group that planned that function. God certainly blessed that day....we were able to pray for many needs and I believe God answered prayers.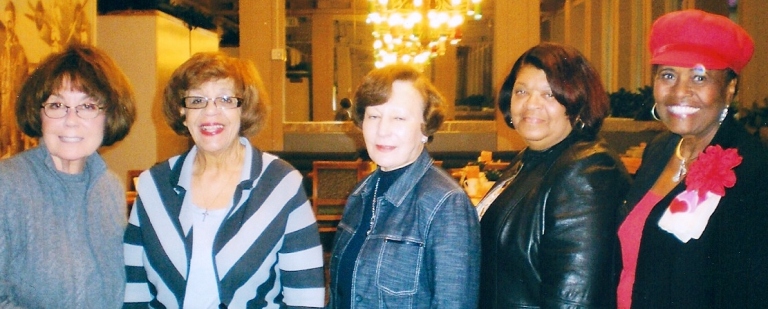 Ms. Lillie with Diane, Margarite,
Rosemary, and Irma
There was another opportunity for me to go minister at Chino Prison. I was blessed....it was an exciting service. There are so many of those precious ladies who truly love God....and it shows. I told them, after I sang "His Eye Is On The Sparrow," that the chorus says "I Sing Because I'm Free" and even though they are on the inside .... they are free. While many folk on the outside are in prison, it doesn't matter where we are, we can be free....because freedom is in Jesus.
John 8:36 - Whom the Son sets free, you are free indeed.
What a joy to attend a Mark Lowry concert. He was wonderful....singing great songs....making us laugh....and presenting the Plan of Salvation. What a pleasant surprise when he called me up on stage to sing....he joined in on the chorus....I loved it!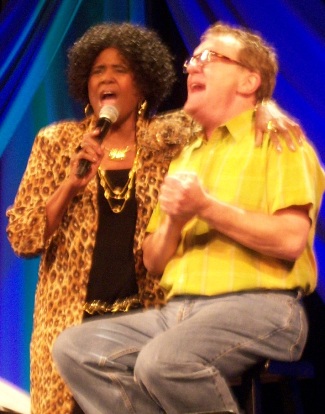 Ms. Lillie with Mark Lowry
It is nearly a year ago now that my dear sister, Evelyn, from San Jose, went to be with Jesus....I miss her so much. Her son, Dr. Kenneth Hammonds, is on staff at a great church, West Angeles Church of God in Christ. What a joy to learn that his Dad, my wonderful brother-in-law, Clarence....and his sister, my niece, Annette, would be driving from San Jose to celebrate their February birthdays with Kenneth and family. Living only an hour from Los Angeles, I was so excited to go up, attend church with them, and go to lunch with them....it was great! Clarence turned 85....he has been ordained for 66 years and is still an effective Minister of the Gospel. To my surprise, Bishop Blake asked me to sing - it was so exciting.

Psalms 132:1 - Behold how good and pleasant it is for brethren to dwell together in unity!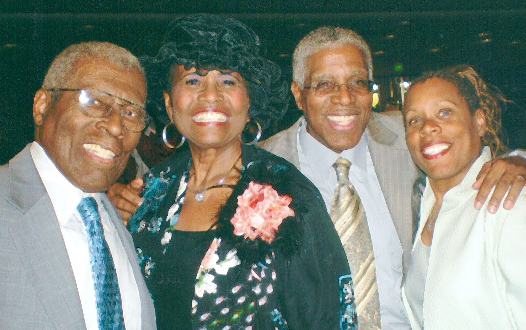 Clarence Hammonds, Ms. Lillie,
Dr. Ken Hammonds, and Annette
If you are asking God "Why is this happening to me, etc?" .... well the Good News is that God is with you in that storm and He will guide you safely through it. All He asks is that we trust Him.
Isaiah 41:10 - Fear thou not; for I am with you: be not dismayed; for I am your God: I will strengthen you; yea, I will help you; yea, I will uphold you with the Right Hand of My Righteousness.
I am very excited about this year "Twenty-Ten"....I am open to whatever God has for me and His plan for my life. I'm thankful for family and friends....for those who pray for me and make contributions to the Ministry....this Ministry is good ground...and you will receive a receipt from me. Please feel free to call me anytime. I am always happy to hear from friends.

If you are working on your 2010 calendar - and preparing activities for your Ladies Group - Senior Meetings - and also Singles - Please know that I would LOVE to come minister for any of those functions - and you will NOT be disappointed.

Just call me at 909-948-2448.
Until next time,

Happy to be His Handmaiden,