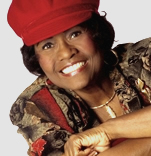 January 2011
Happy New Year....My Pastor growing up always said we should greet one another after our Watch Night Service with Happy New You....he said unless we are made new by God....we will not have a Happy New Year.
January is the time we are anxious for new beginnings. Some are eager to forget the pain of 2010. Perhaps it was a difficult year for you. Well, let's look for a fresh start in all things. I am striving for a renewed commitment to have longer devotional time with my Heavenly Father....asking the Holy Spirit to lead and guide me into all truth....and to follow in the footsteps of Jesus. I trust your desire is the same.
Phil 3:14 - I press on toward the goal to win the prize for which God has called me Heavenward in Christ Jesus.
Of course, all my life, I had heard about the Tournament of Roses Parade in Pasadena....have watched it on TV....until a few years ago....I went. Realizing I did not want to sit on the street curb (because you must arrive early to find a decent place....as early as the previous day

). When my dear friend, Mary Ellen, said she wanted to come down to watch it as she had never seen it before....I reserved a place in the stadium seating....and loved being high up....a spectacular sight. It was beautiful as I had remembered it....even though it was very cold as we sat in the stands. After it was over....we went to see the floats up close....as close as three feet. Wow! Seeing what we had seen from afar....now being able to look at them close was a wonderful thing; especially seeing the Ronald Reagan float. By the way, the most beautiful float in the parade was the Dole Pineapple entry; so said the banner carried in front of it....and we agreed. There is so much creativity and talent exhibited as you inspect the floats.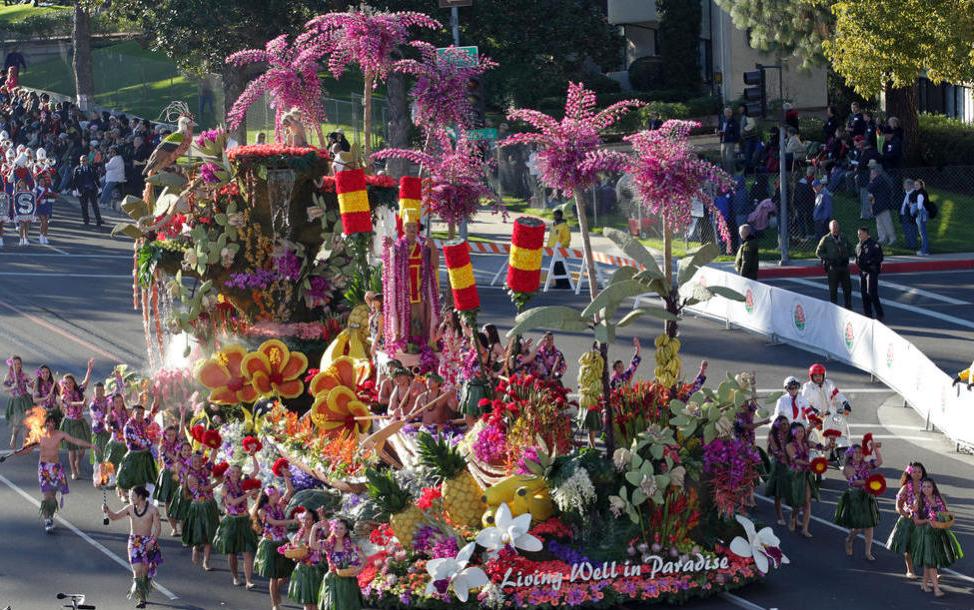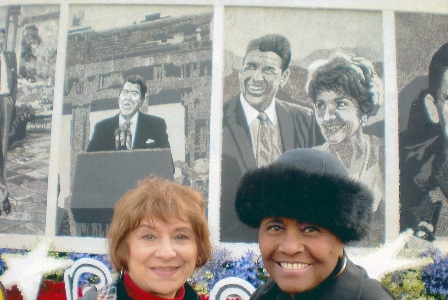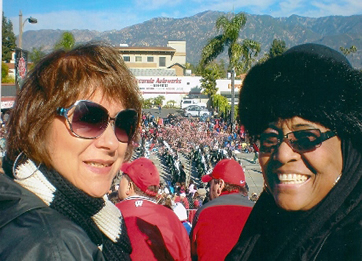 Mary Ellen and Ms. Lillie
I wanted to get started on my income tax preparation early this year....so I didn't book myself as much as I could have this month....and I'm glad I didn't....it seemed a good time for my sister, Gladine, from Seattle to come visit me. She asked if we could please go to a taping of the Dr. Phil Show. Actually I don't get to watch his show since the digital change-over last year, as my TV doesn't work....(it would if I were willing to pay the cable bill each month ....but I'm not

). I was able to get us in and actually I think that perhaps 95% of the time, Dr. Phil gives good advice and genuinely does have a heart to help folk. So it was a fun day. I received a phone call that there was a good shot of us in the audience.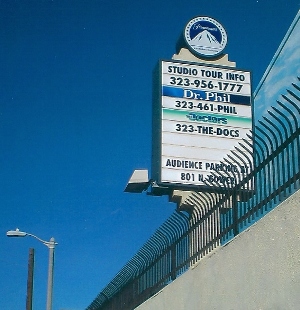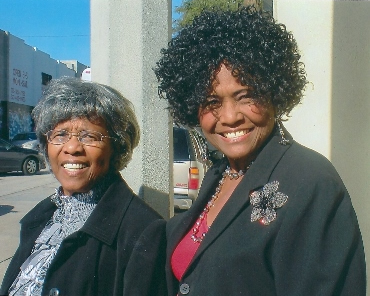 Sister Gladine and Ms. Lillie
Proverbs 17:22 says Laughter does good like a medicine....and I love to laugh....often watching Abbott & Costello's "Who's on First" for that time of laughter. I read that young children will laugh as many as 300 times a day, whereas we adults will laugh as few as 17 times a day. Take some time to laugh. Years ago, I met a comedian, Justin Fennell, heard him....I laughed and laughed, have listened to his CD's for years....I learned that he would be in the area for a night of Christian comedy featuring 10 of the funniest guys and 1 girl. If only the world could understand that there is no need to be vulgar to be funny. We laughed and laughed and laughed as they talked about regular everyday things in each of our lives....things we could all relate to. Look for those kinds of things to attend.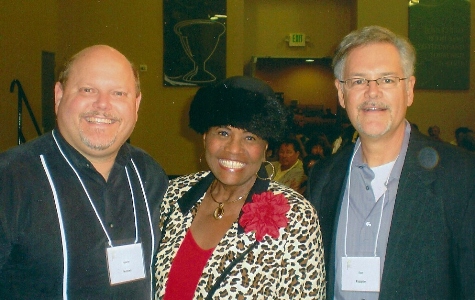 Justin Fennell, Ms. Lillie and
Creator of Issac Air Freight, Dan Rupple
An exciting time for me was going to Portland, Oregon for my only brother's 80th birthday celebration. And what a celebration! He invited 500 friends....and they all came

. A hotel ballroom was the place for this evening of food and fun. What an honor to be asked to sing the last song of the evening, "O Happy Day." My heart was touched as I sat there listening to all the comments about him. He is soooooooooooooo loved and was given citations from city officials. Our dear Mother had six girls and one boy....he was right in the middle and I think he liked that fact.

I would like to share with you a song I wrote about his life.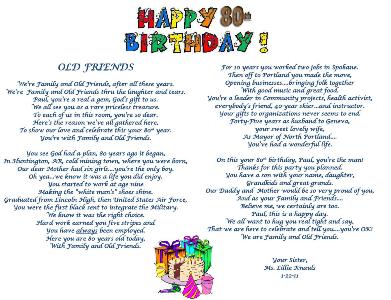 Click above image to enlarge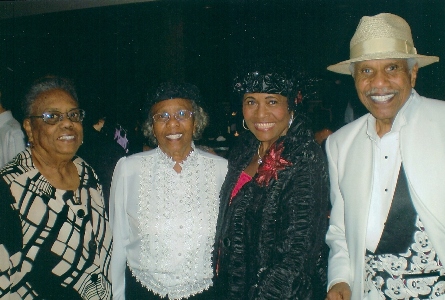 Sisters Loretta, Gladine, Ms. Lillie
and Paul Knauls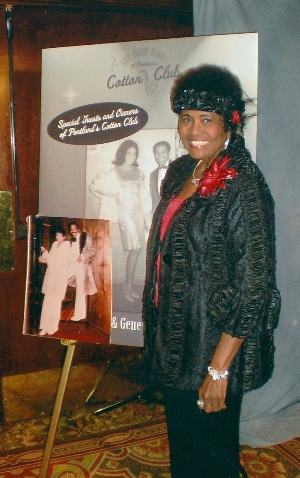 Ms. Lillie standing by vintage photos of her
brother Paul and wife Geneva
The day before the 80th birthday party, I ministered for a Senior's Group in Vancouver, Washington (just across the bridge from Portland)....a great meeting. They are called "55 Plus" meeting each week for food and fellowship. I sensed so much love for me and for one another. For some of the Seniors....that type meeting is a lifeline to keep in touch. God gave me a special message and I was told it was a blessing. If you would like to have me come to your Senior's Meeting (as now I are one

), just let me know as I am working on my schedule. Four years ago, I had ministered for this same group, staying with my long-time friends, Dick and Dorothy Waldbauer....I sure love them. To my surprise, in the audience, were other long-time friends, the trained opera singer with an anointing, Bill Harness and wife Marie. Nice to have fellowship with them afterward.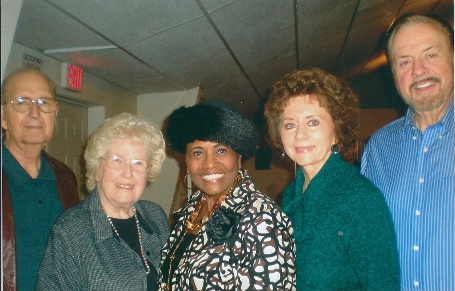 Dick & Dorothy Waldbauer, Ms. Lillie,
Marie and Bill Harness
The Gaither Homecoming Friends were here in my town; just blocks from my house....of course you can imagine how incredible the evening was....hearing those wonderful old hymns of the church, as well as new songs sung by talented folk. What an evening! Here are pictures with some of them.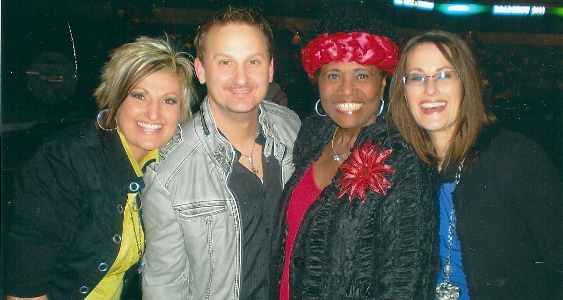 The Martins with Ms. Lillie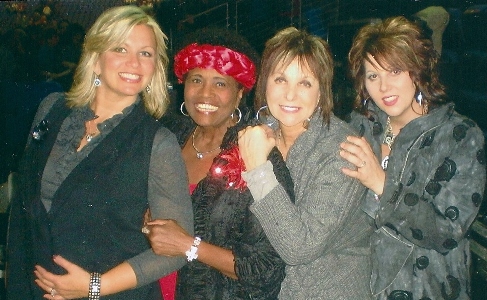 Ms. Lillie with The Issacs minus Ben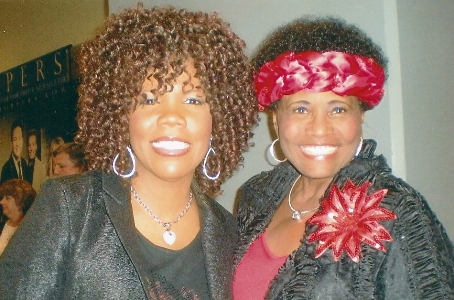 Lynda Randle and Ms. Lillie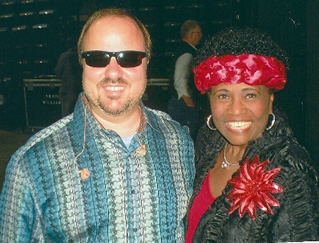 Pianist Gordon Mote with Ms. Lillie
Another of my favorite things to do is sing in different kinds of church services. Do you know that there is a chapel in most truck stops? There is a huge one near me. It is there for the drivers who walk through the doors feeling much pain. Many are away from homes and families for long periods of time and find a "family" there in the chapel. Many are drawn in because of the huge cross on top of the chapel. They come in and hear the Word and last month 159 decisions for Christ were made....41 rededications. They have nine services a week....it is a real lighthouse in that dark place. Chaplain Mike and his wife Susan have a real love for the drivers. So I am always happy to be able to sing songs that will minister to them in that service....as well as when they are driving the freeways listening to the CD's. I have had reports that God has used my songs to speak to their hearts as they are riding along. Please add this new type of ministry to your prayer list.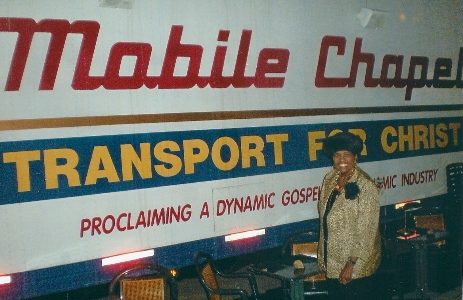 Ms. Lillie at the Truck Stop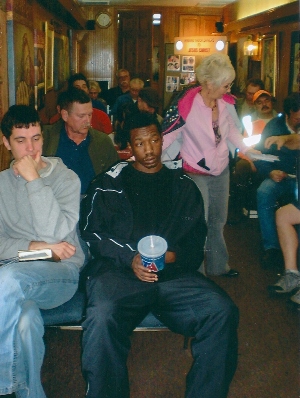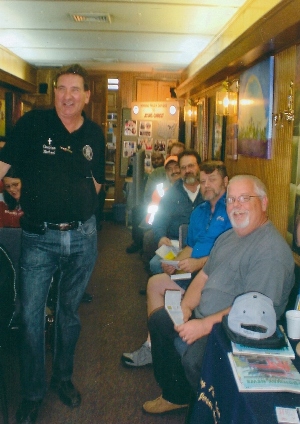 Chaplain Michael
and those precious drivers
It's early in the year....so as you are planning your Ladies Meetings, Senior's Functions .... and church schedule .... I would love come and be a blessing. Just let me know....you will NOT be disappointed.
In times like these....with things changing every day, let's not forget that the God we serve is in full control of everything in our lives. We can trust Him....it's easy as we fill our minds with scripture and focus on the commands and promises of our Lord.
Hebrews 10:23 - Let us hold fast to the hope we profess for He who promised is faithful.
Thank you for your prayers, your love and your gifts to the Ministry God has called me to. When you give....I'm able to go with the Good News in Word and Song....so I guess you go with me. As always, all gifts are tax-deductible....you will receive a receipt. Please drop me an e-mail, call or write a note....I LOVE hearing from you.

I Thess. 3:13 - May He strengthen your hearts so that you will be blameless and holy in the presence of our God and Father when our Lord Jesus comes with all His holy ones.
See ya next time.....


Happy to be His Handmaiden,