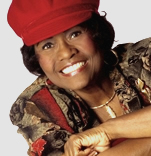 July 2012
Well, here we are....already past the halfway point of this year of our Lord 2012. I can truthfully say that God has been faithful to His Word....each promise we read in The Bible is true....I try to spend as much time as I possibly can reading and meditating on it.
Psalms 119:89 -Your word, Oh Lord is eternal; it stands firm in the heavens.
We've had alot of 90-degree days in my area of California....summer has arrived. Thank God for air-conditioning.

On Sunday, July 1, along with friends, we went to help celebrate the birthday of the talented Andrae & Sandra Crouch. What a powerful service....Pastor Andrae told the story of how he wrote his first song....we all know and love "The Blood Will Never Lose It's Power." What a moving story....then he played and sang it....God has certainly used him down through the years to write many of the classics we sing today. After the service there was a party in the big tent in the church parking lot with Mexican food and Mariachi singers....it was wonderful.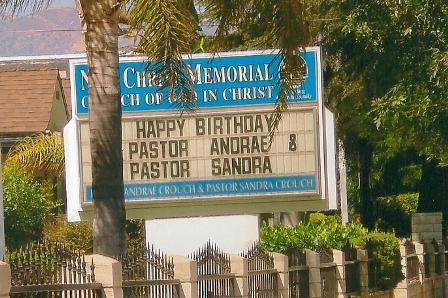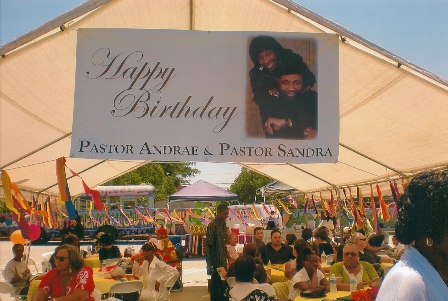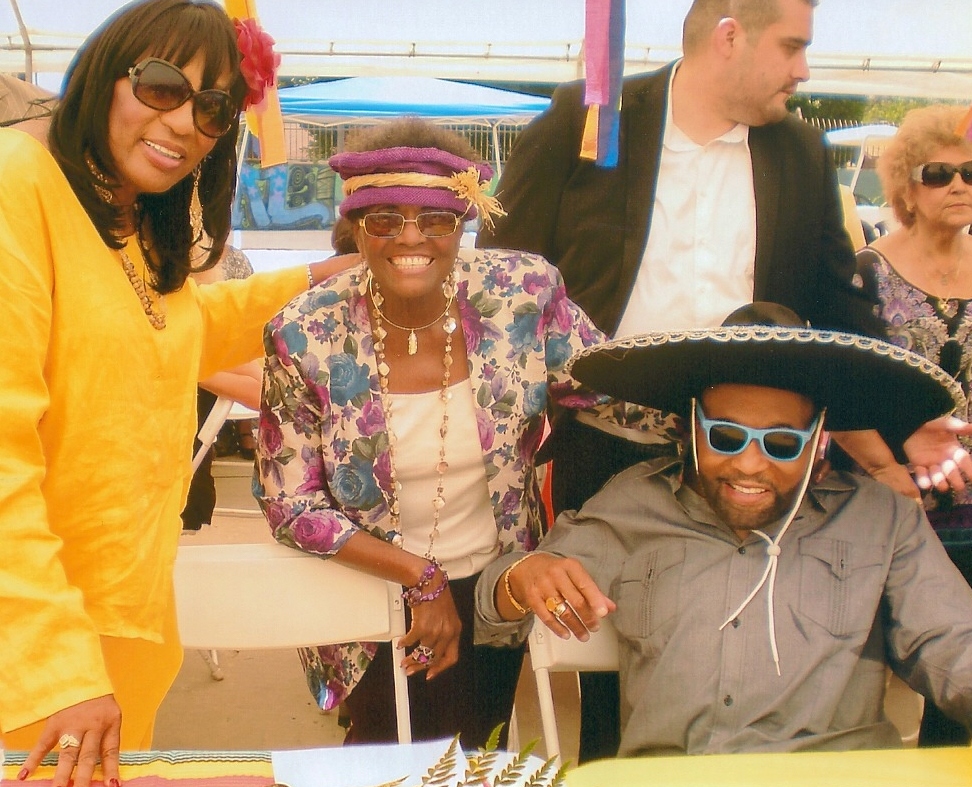 Pastor Sandra, Ms. Lillie and Pastor Andrae
I am well aware that there are many things wrong with our country, but I do love America and pray daily for God to heal our land. I was invited to participate in a very moving Patriotic service at a Fullerton Church, as the World War II veterans were being honored. I was thankful to God to see these brave men....all in their 80's....some wearing their uniforms, hats and medals, etc. The speaker for the day was a former guard at the tomb of the Unknown Soldier....it was very informative as this born-again Christian told us about the duty and permitted us to ask questions....most interesting.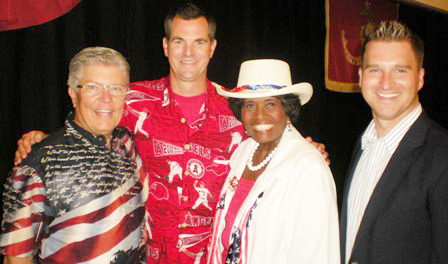 Pastors Elroy, Kirk, Ms. Lillie and former Unknown Soldier Tomb Guard, Ethan Morris
About 15 years ago, I was invited to sing at the Assembly of God Family Camp near Kalispell, Montana. I was able to visit the awesome Glacier Park. Montana is such a beautiful place. I was happy to return this year back to the same Family Campgrounds.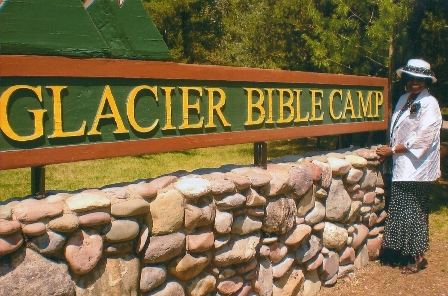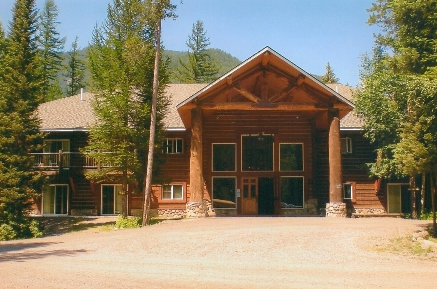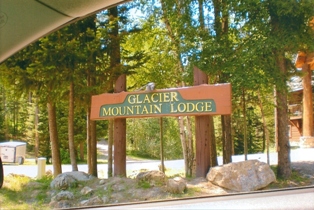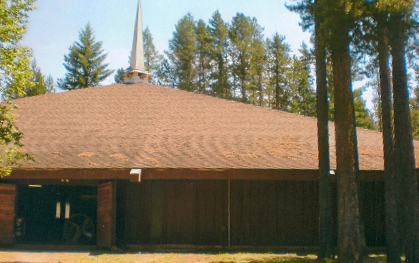 The Tabernacle
Is this how you remembered your family campgrounds?

It was wonderful to be able to share in music 30 minutes prior to the beginning of services on Thursday and Friday nights.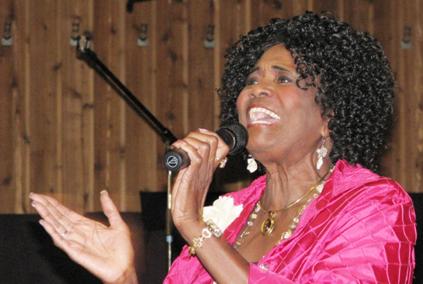 Singing a campmeeting song
A great spirit of freedom among the people in how they worship God. I had a marvelous time back in Montana, the same incredible beauty....those high hills and green trees are majestic.
Psalms 96:12 - Let the fields be joyful, and all that is in it. Then all the trees of the woods will rejoice before The Lord.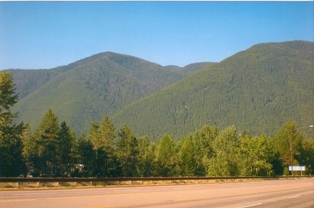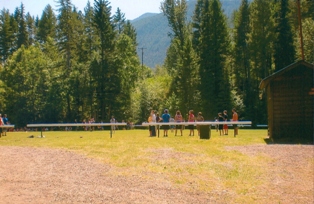 I flew into Kalispell....rented a car and drove to several small towns to minister. It was a joy to be able to stay in homes, especially one which was a small self-contained house attached to a big house.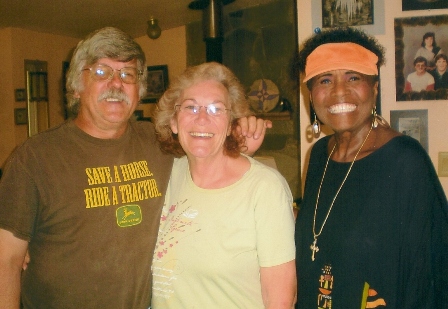 Ron & Judy with Ms. Lillie
Just outside my window in my darling little place....to my surprise a beautiful deer walked by....but was gone before I could get my camera....so you will just have to take my word for it.

Montanans are very friendly folk.
This couple (transplants from California) invited me to their house in Kalispell to see the paintings he has created....what a wonderful gift God gave him.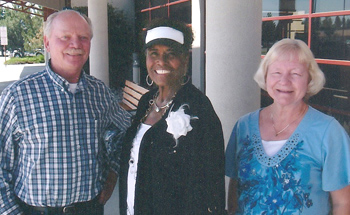 Delmer, Ms. Lillie and Wanda
I believe God touched hearts and lives as I ministered in word and song. I have mentioned before about me speaking/singing for Christian Women's Connection. Two clubs came together for my meeting there in Columbia Falls, population 5,361.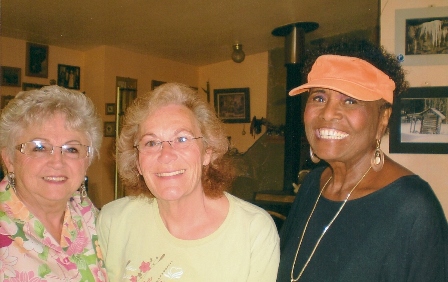 Christian Women's Connection
Regional Director - Ms Judy,
my House Hostess - Ms. Judy
and Ms. Lillie
One of my stops was in the small town of Coram, population 600, a very lovely quaint church....on a Wednesday night....I think a very nice crowd. Pastor Ken....a good singer, sang a duet with me....that pleased the crowd....a good night of ministry.
My next stop was in Superior, Montana, population 865. I was treated to a dinner of my favorite foods, salmon and strawberry shortcake.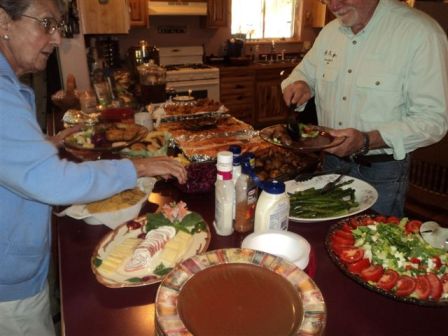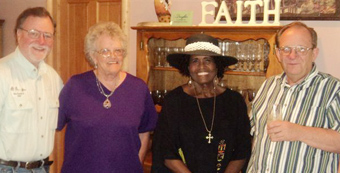 Pastor Rick Lewis, Francie,
Ms. Lillie and Pastor Ed Vainio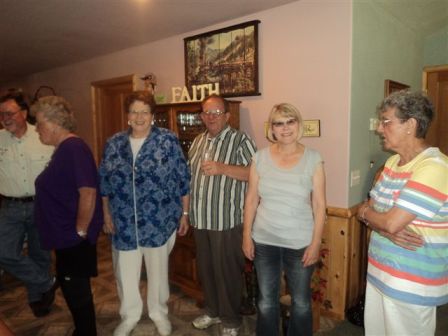 Pastor Rick, Francie, Lorraine,
Pastor Ed, Donna and Lois
Wow! Ms. Lorraine, Francie, and Blair really know how to put on a party. And Rick is the finest chef I know in Montana.

The way he cut the salmon in half, lengthwise, and applies his secret sauce, baked it in the oven for exactly 13 minutes....never have I tasted anything so delicious. I wish I knew what that secret sauce was.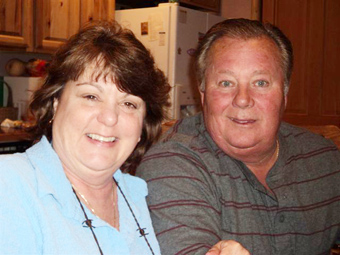 Blair and Rick
After a service in the Assembly of God Church there....which was well-attended, I drove to Missoula (a BIG city

). On Sunday night, we had a Gaither-type Homecoming Hymn Sing. It was wonderful. I had 10 singers who sat on the stage and sang those wonderful old hymns with the audience joining in....those services are always a real blessing and always a good crowd....as so many of the songs now sung churches are new and different

If you would be interested in having me come for such an evening....just let me know.
Here are some long-time "OLD FRIENDS" from Montana.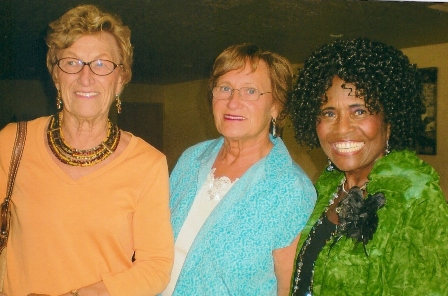 Ms. Lois & her sister Joanne
with Ms. Lillie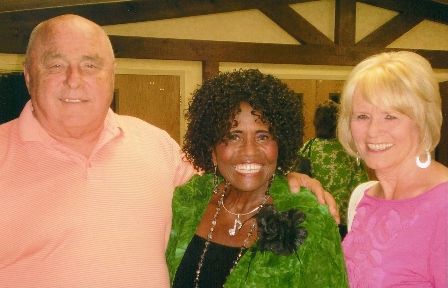 Former Pastor of Christian Life Center,
David and Beverly Tonn and Ms. Lillie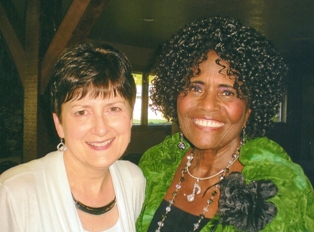 My kind hostess in Missoula, Ms. Judy
and Ms. Lillie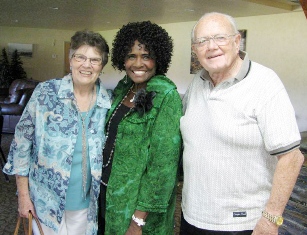 Monteene, Ms. Lillie and Harold
Over 30 years ago, I met Monteene. Our paths crossed often....I was asked to sing at her husband's memorial service. Recently, she married a Montanan...is very happy. It was so good to see them at my concert in Missoula.
Nearly 50 years ago, I met two darling twins. We have remained friends all these years. They turned 80 this month, and I was blessed to attend that party and sing a song. What tremendous women of God they are....they have conducted prayer shut-ins (that's when folk come to a church....fast and pray for 2-3 days). There were many testimonies how these two ladies have been used through the years. I met them during one of those shut-ins when I lived in Seattle. They are my special friends and I love them.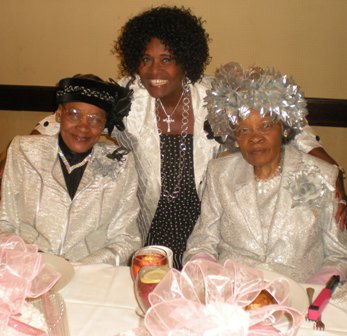 Ms. Lillie with the Sconier Twins,
Mamie and Martha
Hebrews 6:10 - For God is not unjust to forget your work and labor of love, which you have shown towards His Name, in that you have ministered to the saints, and do minister.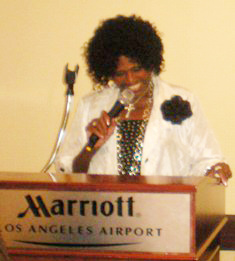 Wishing a Happy Birthday
Let me ask you something....have you run into difficulty lately? Are you confused? Because you have prayed and prayed but nothing has changed....my friend, grace is what we need at those times. When I am asked what my favorite song is, I always say "He Giveth More Grace." Let the words of the song minister to you as you read.
He giveth more grace
when the burdens grow greater.
He sendeth more strength
when the labors increase.
To added affliction,
He adds His mercy.
To multiplied trials,
He adds His multiplied peace.
Oh my, that is so true....the last two lines of the chorus says:
When we come to the end
of our own resources,
that is when our Father's full giving
has only begun.
Please don't forget this truth.
Psalms 84:11 - For the Lord God is a sun and shield; the Lord will give grace and glory; no good thing will He withhold from those who walk uprightly.
By the way, I sing that beautiful song on my CD entitled "Lillie Sings Her Favorites." Click Here
What a wonderful month of ministry I had this July. How can I ever say thanks for God's goodness to me....to let me work 22 years at the telephone company and with only 8 years to go for a full pension, I was called to this full-time Ministry. I love what I am doing....what He has called me to....the assignment He has given me. Each month when I write my newsletter to tell you what I have been doing, of couse, I want to thank those of you who have blessed the Ministry by sending financial gifts of love. I have seen how God has made many of you a blessing to me on a regular basis. When you give, you are planting seed in good soil and are adding to your investment portfolio in Heaven. Also when you give, you will receive a tax-deductible receipt. For your praqyers, which are very important, I thank you....please don't stop praying.

Please check your schedule and see if you would like me to come minister in your church, to your Senior's Group, a Ladies Function or whatever. Call me at 909-948-2448 and we can set up a date.

I Peter 2:10-11 - Be all the more eager to make your calling an election sure. For if you do these things, you will never fall, and you will receive a rich welcome into the eternal kingdom of our Lord and Savior Jesus Christ.
Until next time.....


Happy to be God's Handmaiden,