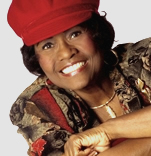 June 2012
This was a very busy month for me...and that is good

...I began by flying to Seattle. What a sight to see famous Mt. Rainier again.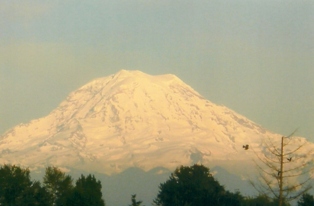 Mt. Rainier
Enroute to attend my 56th Garfield High School reunion...what a night!...a wonderful night!...Seeing friends from 1956...many for the first time since our graduation...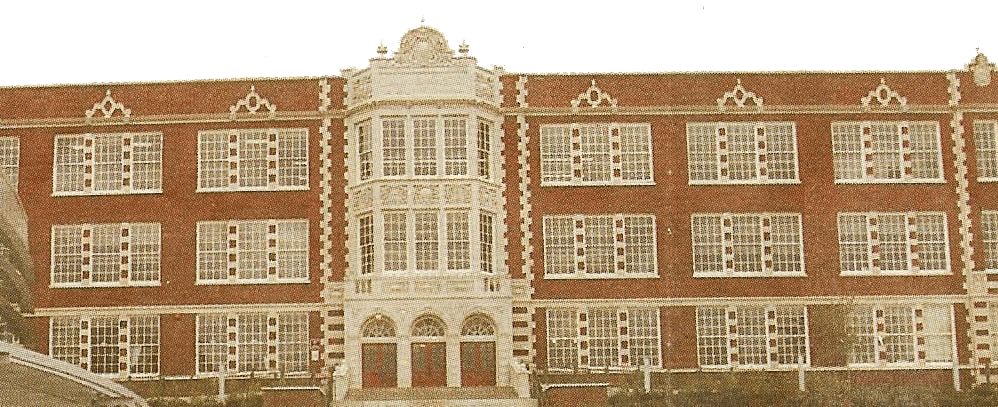 Garfield High School - Seattle, WA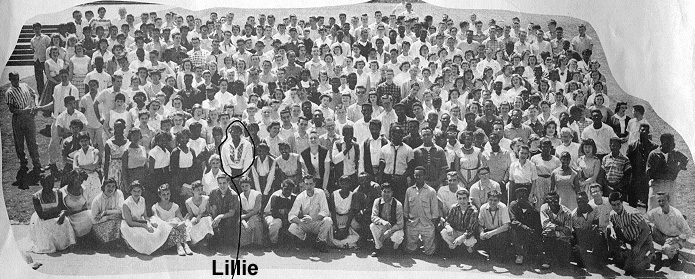 1956 Graduation photo
Actually there was much discussion about how "blessed" we all are to still be alive...as many have passed on...here are some photos...kinda felt like an extended family reunion...I was excited as they asked me to sing 2 songs...I did "Route 66" and then of course "O Happy Day"...I know that there is a testimony in "O Happy Day"...so I believe many thought about their lives as I sang...I did receive many comments about that song...God is the one who touches hearts.
John 3:17 - For God did not send His Son into the world, to condemn the world, but that the world through Him might be saved.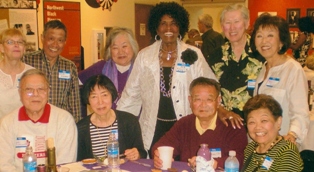 Ms. Lillie with friends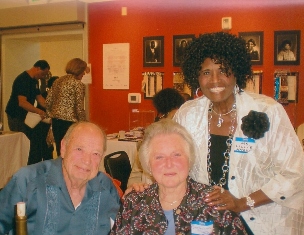 Long-time friends Gretchen & Pierre Jolly
with Ms. Lillie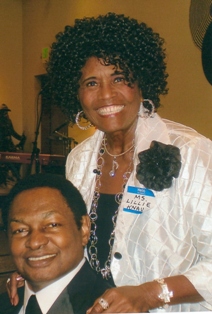 Garfield Band Drum Major, Pianist, Songwriter and Vocalist, Dave Holden with Ms. Lillie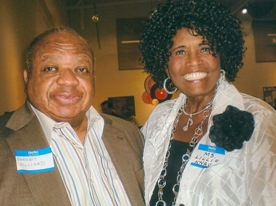 Excellent Saxophonist, Barney Hillard
with Ms. Lillie
Because I knew I was going back home...I thought I would book myself for a week...it was wonderful...starting out in Pt. Ludlow...a gorgeous island...a planned community with retirees...I was part of their first hat and tea luncheon...a packed place with ladies who never wear hats...showing up with one.

I spoke about the difference between joy and happiness...the ladies spoke to me as they left...how much it spoke to them. Pastor asked me to speak/sing for the Sunday morning also...God spoke again to hearts and lives.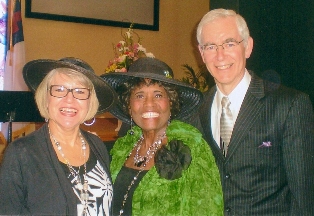 Pastor Dennis and wife Dorie and Ms. Lillie
What an assignment God gave me almost 34 years when I hung up on "Ma Bell'...to go full time in the ministry...I began my telephone career in downtown Seattle...in 1956 shortly after I graduated from high school ...was planning to work for the 30 year retirement...but my Heavenly Father had other plans...He called me to go and sing about His Son Jesus...and after a few years, I began to speak also. If you would like to have me come to your Church, Ladies Luncheon, Tea, Seniors Meeting...just let me know...you will not be disappointed.

Acts 20:24 - Life (Lillie's life) is worth nothing unless I use for doing the work assigned me....telling others the Good News about God's mighty kindness and love.
It was exciting to speak/sing for another group of 250 seniors at a great church in Renton...what a blessing to give a message on "Living Until You Die"...encouraging those blessed seniors to keep busy for God...that there is so much they can still do...because "God is not finished with them yet."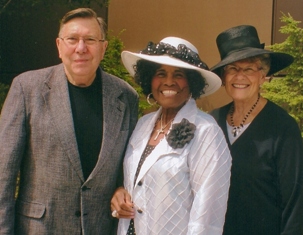 Pastor Stan and Mrs. Morlin and Ms. Lillie
I think I have mentioned several times about the "Hymn Sings" I conduct as I travel...what a blessing to be a part of presenting the music the senior groups (often known as "Primetimers") ...love...but can't seem to hear them in their Churches...I have a great time at each of them...there is even a time of requests from the audience...it is special for them to call out their song and have everyone sing it.

My final concert was a Hymn Sing at Life Center in Tacoma...that morning, the church was told that their Pastor Emeritus has gone to be with Jesus...Pastor Fulton Buntain...(brother to Mark Buntain...longtime Missionary to India)...so when I arrived for the 6pm service...I sensed sadness...because for many of those precious folk...he had been their Pastor for as many as 40 years...he was so loved by them and me...I had sung in the Church over the years...he and his sweet wife Loraine were dear to me...that night I felt that I should sing songs about Heaven including my "Finally Home" ...(a song that has been a blessing for many years since I recorded it in 1977...it is on my "Favorites" CD) ...others we sang "When We All Get To Heaven"..."What A Day That Will Be"...and of course "I'll Fly Away"...I tried to turn their minds to the place Jesus has gone away to prepare for each of us...The Holy Spirit came in and brought much comfort...a sweet night.
Titus 2:13 - Looking for that blessed hope, and the glorious appearing of our Great God and Savior Jesus Christ.
Back in the 70's, I met a beautiful couple at Melodyland...Dick and Betty Mills...I was even blessed to travel to some places with them...what a gift from God he had...calling unfamiliar folk out in a place...giving them a scripture that was encouragement for what they were facing in their lives...I still have the note papers his wife Betty would jot down and hand to me and each person...with the scripture He had given to us...those notes are in my Bible and I refer to them often...he was a true man of God...I was blessed to sing at his 80th birthday party...well he went to the Loving Arms of Jesus a few days ago...at age 90...the Body of Christ will certainly miss this Prophet of God...I went down and spent time with the family...I shall miss him...but I know I shall see him again.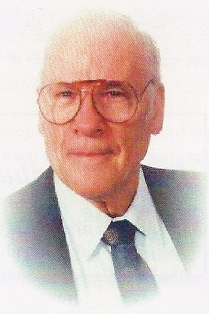 Evangelist Dick Mills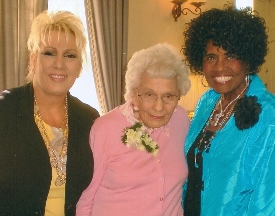 Dick Mills Daughter-Debbie Mills-Booth
& Wife-Betty Mills with Ms. Lillie
John 14:2-3 - In My Father's House are many rooms; if it were not so, I would have told you. I'm going there to prepare a place for you. And if I go and prepare a place for you, I will come back and take you to be with me, that you also may be where I am.
It does seem that each week I hear of a friend who was called Home...I send out many Sympathy Cards...that always remind me that we all have an appointment with death...unless Jesus comes back...and we go up to meet Him in the air...my daily prayer is that I live in such a way so when I stand before the King of Kings and Lord of Lords...that He will say "Well Done" to me.
Rev. 22:12 - And behold, I am coming quickly, and my Reward is with Me, to give to everyone according to his work.
I am still working with the Christian Women's Connection...it is great to speak/sing at a luncheon where first timers and regular attendees come once a month to hear a speaker present the Gospel...I have been speaking for 8 years now...and I did only their music for 3 years before that...so I am certainly committed to that organization... regarding their commitment to reaching unchurched women who are hurting and need Jesus. I am praying for a harvest of souls...so there will be lots of parties in Heaven.
Luke 15:7 - I say to you that likewise there will be more joy in Heaven over one sinner who repents than over ninety-nine just persons who need no repentance.
I love my family; two sisters with families still live in Seattle...so it was wonderful to spend time with them (even though we had been together last month for our annual family reunion in Portland). They picked me up at the airport...we spent two hours in a nice restaurant...then two more hours in a different restaurant, laughing and talking.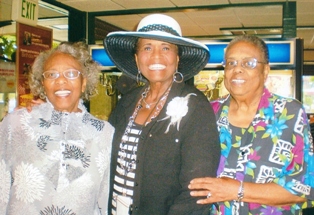 Gladine, Ms. Lillie, and Loretta
How are you doing?...Are you in the midst of a weird situation...something you just do not understand?...Let me tell you that the God we serve is aware of all you are facing...He only wants us to trust Him...(which I admit could sometimes be difficult)...to set our hearts and minds on Him...His Promises in His Word...let's give Him control of our lives...for He knows all of your needs...(even the ones we have not yet experienced).
Nahum 1:7 - The Lord is good, a stronghold in the day of trouble; and He knows those who trust in Him.
Are you in charge of planning your Christmas function...want me to come?...I would love to

...please give me a call at 909-948-2448...and we can talk about it...you will not be disappointed.

I thank God for the opportunity to share my life and ministry with you...many of you have been such an integral part...even from the beginning ...with your prayers...phone calls...E-Mails...and gifts (which will be added to your account in Glory)...Thank you for your journey with me...please keep in touch and remember you are a part of my life and Ministry (I want you to know that this Ministry is "good ground.")...He has given me His Wisdom on how to handle the money I receive...Also, I want to tell you that you will receive a tax-deductible receipt for whatever you send...thanks so much.
Philipians 1:6 - ...being confident of this very thing, that He who has begun a good work in you will complete it until the day of Jesus Christ.
Until next time.....


Happy to be God's Handmaiden,