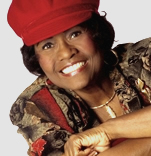 March 2010
I marvel at the faithfulness of God....these first three months of 2010, and because of His Word I am certain that I will see it throughout this year. My Father God, has done what He promised....through the scripture He gave me when I "hung up" on Ma Bell after working 22 years....8 years short of full retirement benefits. And I know Him as a provider of all the things I truly need. He is and will be my portion.
Lam. 3:22-23 - ....Because His compassions fail not. They are new every morning. Great is Your Faithfulness.
It seems that I am driving to many of my concerts, and when I drive in an area....such as Clearlake, CA....I am able to see the incredible beauty God has created. I was there to speak for a Ladies Luncheon. It was a great time of ministry....the Ladies shared how blessed they were....and so was I!
Because many churches now are singing only the new songs, the older group (my group)

long to hear the older songs and hymns. So what an absolute blessing it was for me to go to Fairoaks, CA for what is called "Heritage Service." It was a glorious night. There were lots of folk coming from other churches to be able to hear and join in singing those songs. I had a 40-voice choir....we sang songs from the Gaither videos with soloists from the area doing some of the lead vocals....and me. It was such a special evening....I was told that the Heritage Service is one year old and the largest crowd was there for my service. They have asked me back and I am already looking forward to it. One favored part of the evening was when I asked requests from the audience....the pianist was very good, could play by ear in every key. So we were able to let the folks sing along on their favorite requested songs.
Psalms 147:1 - How good it is to sing praise to our God. How pleasant and fitting to praise Him, for praise is beautiful.
For many years, my family have had a family reunion....we love being together, always getting connecting rooms so we can spend lots of time with one another. This year, we went to Vegas....as you know the rooms are so cheap there during the week....and because none of us work....any time is a good time for us.

Psalms 133:1 - Behold how good and pleasant it is for brethren to dwell together in unity.
On Sunday, we attended my Sister's church .... what a special time together. We, of course, miss our two sisters, Gertie and Evelyn....who have gone to be with Jesus. Soon we will have the ultimate reunion in Heaven forever.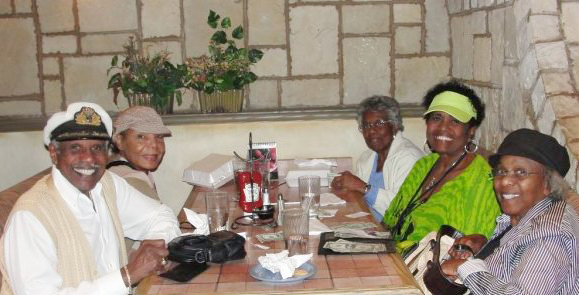 Ms. Lillie with her family:
Paul, Paul's wife-Geneva,
Nell, Ms. Lillie, Gladine
This month, I was invited by Dean and Mary Brown to come tape their program at TBN in Dallas entitled "Unfolding Majesty." It is an anointed time of singing old songs. I was very excited....I was asked to sing "The Comforter Has Come"....which I have been singing since 1976 and folk still ask for it as I travel. As I get older, my voice gets lower and lower but the soundtrack is of course on the same key

....so it is a difficult song for me to sing in 2010....but I did. My prayer is that when you see me on the program, you will enjoy it. Dean and Mary are long-time friends. Here are photos of other invited guests; I love them all.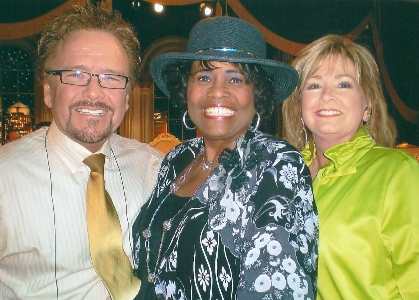 Ms. Lillie with Dean & Mary Brown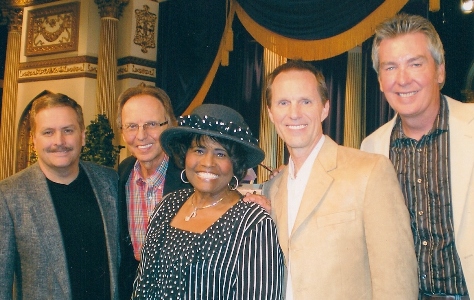 Ms. Lillie with The Blackwood Brothers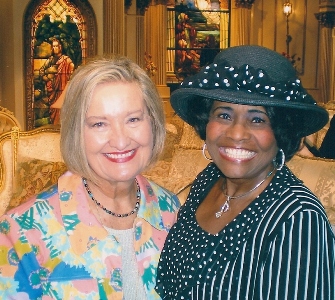 Ms. Lillie with Ann Downing
Music is a powerful medium. I am always quite concerned about the songs I sing. I want the message to inspire, comfort, uplift and bless. Let me share with you why. I received a letter from a woman in Germany....she has requested that I send her my CD's. I did....but I never hear from her again until this letter. She said, on a trip to the US recently, visiting the Grand Canyon was part of the itinerary....she was so taken up with the beauty that she just kept walking away from the bus....getting more and more caught up in that awesome sight of the Canyon. Soon, she realized she was far from the bus and could not seem to find her way back. She would walk one way for awhile, and then another, but could not see the bus or anyone. Finally she saw a man and tried to tell him she was lost....but he could not understand her....so he went on his way. After he left, a spirit of fear began to overwhelm her....realizing she was lost in America, unable to speak English ....she sat on a stone feeling totally alone. Suddenly she heard the words of one of my songs in her head she had been listening to for months "God Knows Where You Are"....He knows just where you are (that song is on my Potpourri of Praise CD). Suddenly she did not feel afraid; she felt encouraged and just thought she should relax where she was. Out of nowhere....a man appeared 4-5 steps from her. She told him in German that she was lost from her tour bus....well listen to this....he spoke to her in perfect German (her language) .... even helped her back to the waiting bus. She had someone write me to tell me this incredible testimony. Closing her letter by saying she wanted to thank God and me for helping her that day. So, what can I say? I'm just thankful that He sent an "ANGEL" to rescue her.
So dear friend....perhaps you're wondering if He is really concerned about you. You may not know where God is, BUT GOD KNOWS WHERE YOU ARE. Please remember that!
Naham 1:7 - The Lord is good, a refuge in times of trouble. He cares for those who trust in Him.
April 2010
Last April, Easter week, I was in Arizona speaking/singing for Christian Women's Clubs .... four clubs. As soon as I returned home, I was asked to return this April 2010....I did. There were five meetings; Mesa, Scottsdale, Sun lakes, Sun City and Lake Havasu City (home of the famous London Bridge). I drove so I would be able to get around easily....thank God for traveling mercies....actually it was a nice easy drive. The crowds were large and I had prayed for fresh anointing on the talk .... that regular attendees would bring an unsaved lady for Jesus to open her eyes to see her need for Him....I know that happened. I am always thankful for the opportunity to minister to those ladies, plant the seed....someone else waters....and God in His time, gives the increase. The weather was not as hot as Arizona can be, in fact, it was perfect.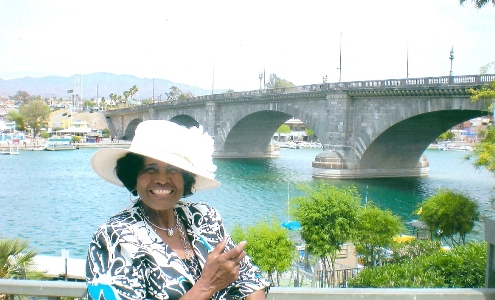 Ms. Lillie at the London Bridge
That time of the year came around again....my birthday. I so wanted to go on another cruise....but it wasn't working out. I will go later. A wonderful friend of 37 years came from the Sacramento area to help me celebrate my birthday. First we went to lunch with another friend I've known as long .... who was celebrating her birthday also. There is nothing like Godly Sisters. We call ourselves S.I.S. (Sisters in the Spirit). I love them and trust them, rely on them for Godly wisdom and prayers.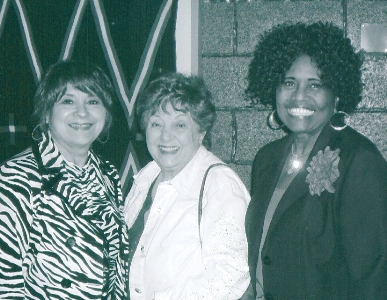 Ms. Lillie with long-time friends -
Mary Ellen and Cornelia
We went down to Palm Springs for two days, had a great time.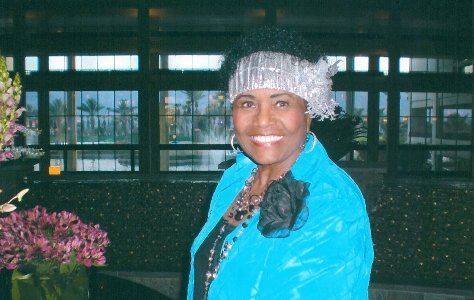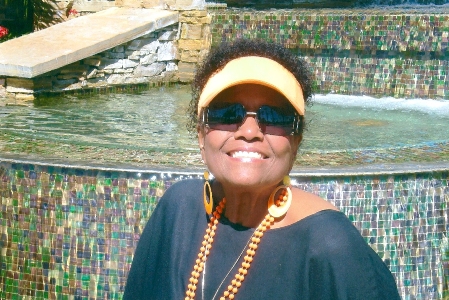 Ms. Lillie at the
Palm Springs Resort Hotel
I had put a message on my voice mail asking folk who called my house to please sing Happy Birthday to me....how much fun it was to hear 34 friends singing to me (however some should not even think of giving up their day jobs).


But of course, it was kind of them to call me with that wish. The scripture I used on my voice mail about my birthday was:
Ecc. 5:20 - For (Lillie) will not often consider the years of her life....for God keeps her occupied with gladness of heart.
Yes I am busy and loving it. I am so thankful to God that I was given an assignment to carry the Good News in Song....to see changed hearts and lives. I never want to retire. I believe the time is short on this Earth and we must be about our Father's business.
If you would like to have me come speak/sing for your Seniors Group, Ladies Luncheon or in your Church....please just call me. YOU WILL NOT BE DISAPPOINTED! And yes, you can afford me.

I don't know what you're going through....whatever it is, God is in it with you. If you feel like you are in a furnace....His Hand is on the thermostat. I know it is very hard to see the Hand of God when we are going through something.
Again, I am humble....that God chooses to use me. Thank you for your prayers and a big thanks for those of you who support me on a regular basis....and also for you who send offerings when you can. I am able to bless others with God's 10% of everything that comes in. This ministry is good ground and you will receive tax-deductible receipt when you give.
Feel free to call me anytime ....remember, I don't do e-mail, but I have unlimited phone service and I will call you back when you call me, it will be my nickel.

Here is my prayer for you:
Romans 15:13 - Now may the God of Hope fill you with all joy and peace in believing that you may abound in Hope by the power of the Holy Spirit.
Until next time,

Happy to be His Handmaiden,