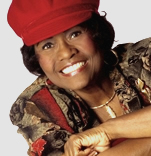 March 2012
What's the weather like where you are? I've been reading about interesting patterns. I am not even sure what the weather was like in California during March....as I was in Florida....and it was lovely ....a good time to go there.

I want to keep you updated on how God is using me to proclaim the Good News through song.
Isaiah 55:11 - As My Word goes from My Mouth: it will not return to Me empty, but will accomplish all I desire and achieve the purpose for which I sent it.
When I arrived on March 2....I was told....it had been almost 30 years since I was at First Assembly of God in Fort Myers....now, I was back in that huge auditorium....ministering for two Sunday services....with a large choir....and it was wonderful! I have always loved singing as I travel with choirs/praise teams....and one of my favorite great preachers is Pastor Dan Betzer....you might remember him as the speaker for "Revivaltime" Radio Broadcast....when Dr. C.M. Ward passed away....what an incredible anointed speaker....I sat through two services and messages because I wanted to hear more.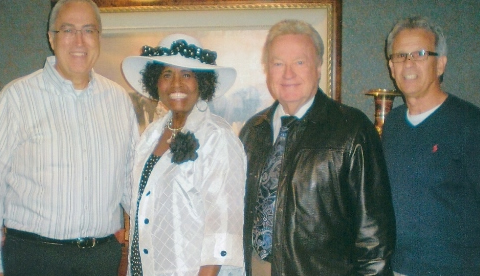 Pastors Dave Thomas, Ms. Lillie,
Dan Betzer and Dave Yannatone
On Tuesday morning at First Assembly....there is a well-attended Seniors Group....(lots of snow-birds) a fun time....called the Dave & Dave Show....two Pastors on staff....both named "Dave" and they are a great team....one plays beautiful piano....the other is leader of the Senior Adult Ministry and a excellent comedian ....what a good service.
Leaving Fort Myers, I drove two hours to Clearwater to tape two TV programs on Channel 22....the owners are committed Christians who are spreading the Gospel all over the world.....Mr. Bob and Ms. Jane D'Andrea welcomed me warmly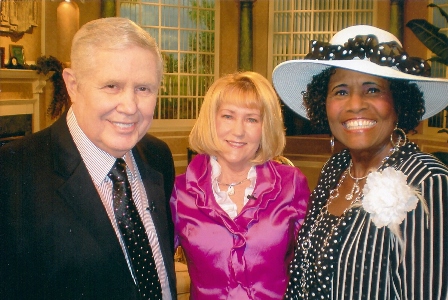 Bob & Jane D'Andrea and Ms. Lillie
....as did my long time friend....who has a daily TV program....where she does a bit of cooking and interviews guests.... Arthleyne even wore a hat for the interview....as I did.

Then on to Orlando....to finally unpack at my long-time friend Shirley Jordan's new condo....it is lovely....I had my own guest room and bath on one side of the house....had a house key....so I could come and go as I wanted....she's a fantastic pianist also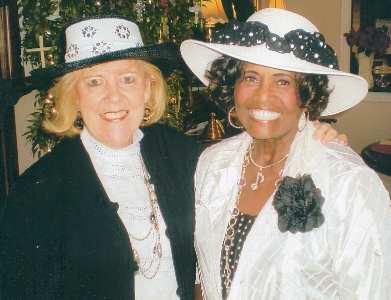 Shirley Jordan and Ms. Lillie
....and because I lived in Orlando for seven years .... I was able to meet with many of my friends .... for fellowship ....and of course food

....I did weigh before I left home on my scale....so I will weight when I return....and because I went to workout at Curves every other day since I had been in Florida....I should be OK!

I had scheduled several "Senior Celebrations"....was able to meet folk from all over....because as I mentioned earlier....this is "snow-bird" time (folk who come from cold climates to the sunshine)....of course, they are all familiar with the Gaither Homecoming Videos....and I am able to sing those wonderful treasured Hymns....that never seem to get old.
Colossians 3:16 - ....sing Psalms, Hymns and Spiritual Songs with gratitude
in your hearts to God.
Each time I return to Orlando....I go to the Garden Gate Tea House....it is a lovely Victorian house in the city of Mt. Dora....Karen has been used by God for many years to make that place....a house of peace....the food is scrumptious....and the entire place is furnished in white....you would love it and if you find yourself in the area....you would be blessed to go there.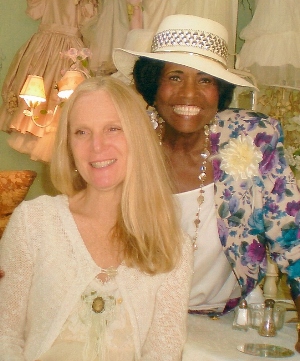 Owner Karen and Ms. Lillie
I met with some dear friends....and we shared about God around a table of scones, tea, etc.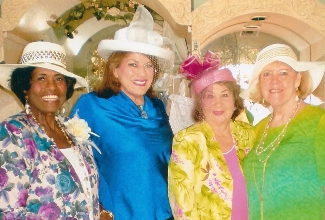 Ms. Lillie, Oralena, Betty and Shirley
Psalms 133:1 - How good and pleasant it is when (sisters) dwell together in unity.
God gave me an opportunity to sing at an incredible church in Lakeland ....Pastored by Pastor Scott and Cindy Thomas....my, what a church! God is certainly using Pastor Scott to touch a city....I so enjoyed hearing him....he is some kind of a preacher

, a young man with a vision.
When I come to Florida....I have the opportunity to go minister in a great church in Palm Coast....it is alive with the Holy Spirit....miracles happen regularly in that place....the Word of God is preached by Pastor Mike in a powerful way.
I love to minister for Senior Groups....so if you would like to have me come to yours....please let me know....call me at 909-948-2448....I'm ready.

I love to encourage them....to tell them that God is not finished with them yet....there is still so much they can do.
John 9:4 - I must work the works of Him who sent me while it is day....for when night comes, no man can work.
Each day, I thank God for the assignment He gave me nearly 34 years ago....to hang up on "Ma Bell"....walk out into full Ministry. It has been and is "a wonderful life." It is a beautiful thing to be used by God....to realize the He can take whatever we give Him....and touch the world with His Love.
Have you surrendered all to Him? We must not say "I don't have much to offer" .... for little is much when God is in it. We must share with everyone we meet about His Love.
II Corinthians 5:21 - God made him who had no sin to be sin for us, so that in Him we might become the righeousness of God.
One of the highlights of this trip was when I ministered in a Methodist Church....(a spirit filled Methodist Church)

A long-time friend, Pastor Scott, is doing a great job. His message was anointed....about Peter's denial. We were told that we also deny Jesus....even on a regular basis. His conclusion was an invitation to come forward and surrender all. The alter was lined with those who knew what they had to do.
II Peter 3:9 - The Lord is not slow in keeping His promise, as some understand slowness. He is patient with us, not wanting anyone to perish, but everyone to come to repentance.
I did take some time to have fun....going to Sea World. I loved the Shamu show....even though it is different now that the trainers do not swim with the whales....since the trainer was killed. But it is still awesome to see how something that size can be trained.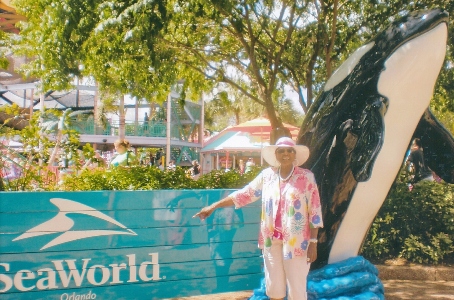 God has given many wonderful gifts to His children....one I met, Harry Kennedy. He has been an artist for many years....traveled the world painting murals. When he came to know Jesus as his personal Savior....he wanted to use his talent to glorify God....and he does that. He has four buckets of paint on his right side and left side....as music is played, he paints....and leaves you speechless as you see his gift unfold and the finished painting. If you will type in Harry Kennedy painter and speaker, on youtube, you will see him at work.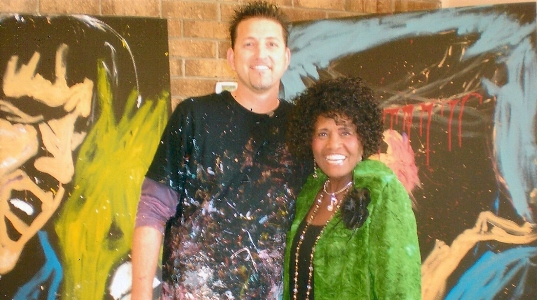 Harry Kennedy and Ms. Lillie
Proverbs 18:16 - A man's gift makes room for him, and brings him before great men.
Nearly 30 years ago, on a visit to Florida, I sang for an Inter-City Ministry. At the piano, was a very talented young man. He was easy for me to sing with and seemed to know all of my songs. I asked "Would you like to travel with me?" He was only 17 and answered with "I'll have to ask my mother." When he turned 18, she said he could....and what a blessing for him to accompany me for two years in India, Norway, and many other places. It was wonderful for me to reconnect with him and his wife and three children (they are even grandparents now). He is still playing piano and leading a choir. We met at a "soul food restaurant" .... so of course, I ate more than I should have.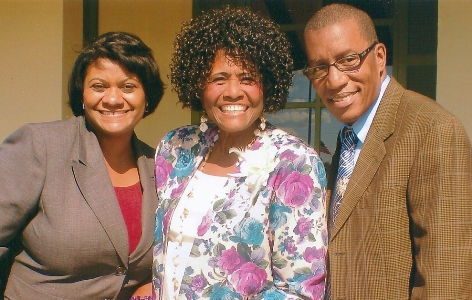 Virginia, Ms. Lillie and Mark Payne
I love the opportunity given to me by God to travel, but it's always good to be back home for a bit....to sleep in my own bed.

Do you feel that way when you travel?
You know that we are travelers here on this earth....not settlers. We're on our way to the place Jesus has gone away to prepare for us....then and only then, will we be "FINALLY HOME."
If you're working on your schedule for the rest of the year, let me know if I can come to minister to your Seniors Group, Ladies Luncheon, or in a Church Service. I'm ready.

My phone number is 909-948-2448. Call anytime. Have you listened to my new CD - Hymns and Spiritual Songs? You really should.

You can visit my product page and order one or more.
Romans 15:13 - May the God of Hope fill you with all joy and peace as you trust in Him, so that you may overflow with hope by the power of the Holy Spirit.
Until next time.....


Happy to be God's Handmaiden,