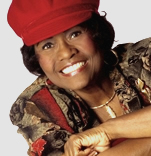 May 2011
Of course you have heard that April Showers bring May Flowers .... and they are popping up everywhere. I love to see the different colors as I drive the roads .... it shows me some of God's creativity.
What a busy month .... WOW! I loved it.

It began with the Bill Gaither Homecoming Video Taping at the Billy Graham Library in Charlotte, North Carolina. What a place! I felt like I was on "Holy Ground." I went on the tour of the Library. It actually looks like a barn.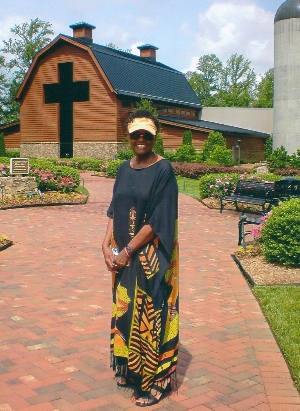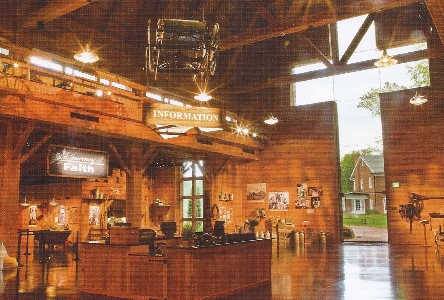 The Visitor's Center
Franklin Graham told us the entrance was designed for all to enter at the foot of the cross. I was so moved to see how God has used Dr. Graham who had a very humble beginning .... he was willing to be used by God to proclaim the "Good News" around the world. I learned that he is one of the "most admired men" in the world. He always preached Christ .... Him crucified, and the resurrection. Giving millions the opportunity to be saved and spend eternity in Heaven.
John 3:16 - For God so loved the World, that He gave His only begotten Son that whosoever believes in Him shall not perish but have everlasting life.
Once again, I visited the childhood home of Dr. Graham .... I had, years ago, seen it on the grounds of Heritage USA .... home of PTL .... now it is on the grounds of the Billy Graham Evangelistic Association.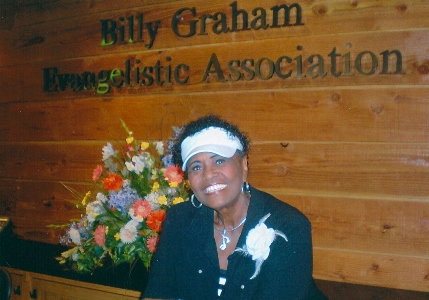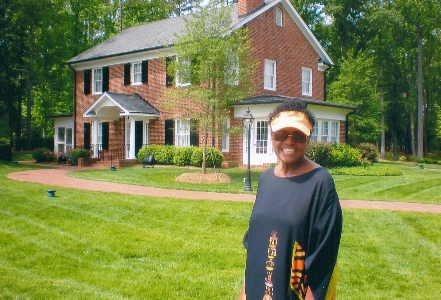 Boyhood Home of Billy Graham
Bill Gaither wanted to capture on video the era of the early 50's Los Angeles California long running crusade conducted by Dr. Graham ..... so a large tent was pitched and an invitation was given to folk who drive classic cars .... and boy were they nice and shiny. They were asked to bring them to be parked around the tent to add to the authenticity.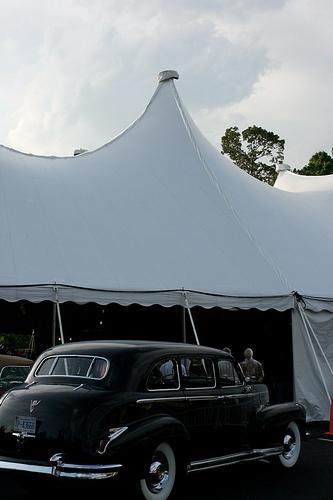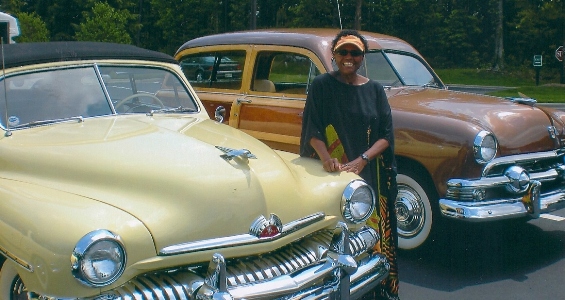 The singers were asked to wear clothes from the 50's .... here's what I wore; my friend made the jacket for me.

About two hours into the taping .... Bill Gaither mentioned that a storm was on the way .... there would be thunder and lightning .... and we would have to stop the taping until it passed over .... which we did. However, as the monsoon rain came into the tent, it ran throught he tent, gathering the sawdust as it moved .... until there was a real mess,

but of course, you will never know any of that happened when you view the video .... as Mr. Bill is a master when it comes to putting these things together.

I was very excited to be able to meet again Mr. Cliff Barrows and to take a picture with 102-year old, George Beverly Shea .... he has blessed millions singing just before Dr. Graham would speak. His voice is still strong, as you will hear on the video.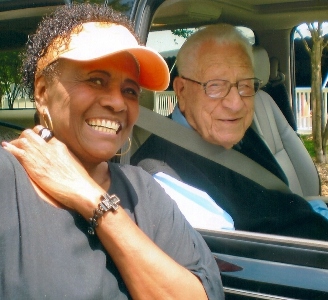 Ms. Lillie with George Beverly Shea
I was asked to speak/sing for the annual Ladies Tea at the Lake Ave. Church in Pasadena .... the day before Mother's Day. There were 350 ladies .... each table decorated by the hostess .... which means that each table was decorated differently. I loved walking around .... seeing all the creativity. I was told over and over again as the ladies walked out .... how they had been touched. Of course, that is what it's all about. I am so blessed by God to be able to travel and minister. Remember, if you're planning your Ladies Luncheon or Senior's Rally (I also sing in churches),

and I am open to coming .... you will NOT be disappointed.
Little did I know, when I was "called" by God from the telephone company (where I was working for my 30-year retirement) that I would have such a life, opportunities to travel the world with the "Good News" in song. I am grateful to God for His faithfulness to me these nearly 33 years of full-time ministry. He promised that He would supply all my needs, and He has. I am certain that there are many of you who can say that He is faithful to you also. When you were in the midst of a calamity .... heartache .... illness .... and could not see a way out .... that is when we trust Him .... for His Word says that He will deliver us .... He will work everything out for our ultimate good.
Psalms 18:2 - The Lord is my Rock, my Fortress, and my Deliverer; my God is my Rock, in whom I take refuge. He is my Shield and the horn of my Salvation, and my Stronghold.
I had a great opportunity to minister for a large group of Seniors. I love singing all the old familiar songs that they will recognize .... because then they will clap and sing along. I am certain many of them .... remember their childhood .... attending church with their parents. I don't want anyone to leave this world and not be certain where they will spend eternity .... that is why I consider it a gift from God to "go tell them."
An interesting development .... I received a note from a Pastor's wife telling me there was an 83-year old man in their church who had been blessed hearing me sing a song on the Gaither videos, "Only a Look." He wanted her to ask if I would be willing to come to the church and sing it. Well, I was able to work it out .... so that I would be able to speak/sing for a Ladies Tea and then offered them another possibility .... that perhaps on Sunday night ....we could have a hymn sing .... I sent them songs for the 35-voice choir to learn (songs from the Gaither videos) .... and it was a great evening .... folk came from many other churches to be able to join in and sing songs they can't seem to hear in their churches anymore.

What a great trip .... that is a beautiful part of Tennessee ..... God's beauty is everywhere. I'm thankful to God for the special anointing in each service. I so enjoyed hearing the Pastor speak .... he is a great communicator.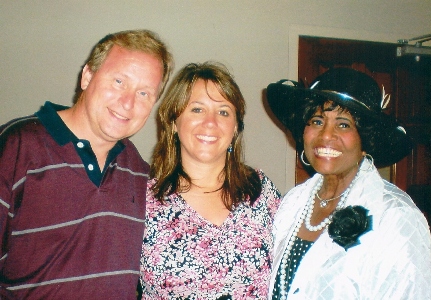 Pastor Mark and Amy with Ms. Lillie
Only once before had I seen this in my travels .... a cemetery on the property of the church .... I guess folk seem to like the idea of being able to decorate and care for the tombstones more easily .... interesting.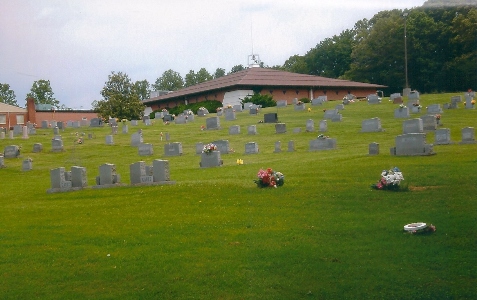 The powerful radio station, KKLA, has each year a rally .... bringing in one of the speakers from the many different programs played on the station .... well, this year it was Dr. James Dobson of "Family Talk" .... it's his new show since he left "Focus on The Family" .... it was such an exciting evening. God used him to speak to us about "raising girls", it was powerful. I was able to greet him when he first came in .... but the line was so long for those who wanted to take a photo and have him autograph his book that I wasn't able to get a photo with him. I should have taken it when I first greeted him.

However, I asked his wife and my friend, Ms. Shirley if I could have a photo with her. What a special lady she is. They have been married 50 years. I was blessed to be asked by her to sing for the National Day of Prayer functions in Washington DC as well as The Pentagon. I shall never forget that day and their kindness to me.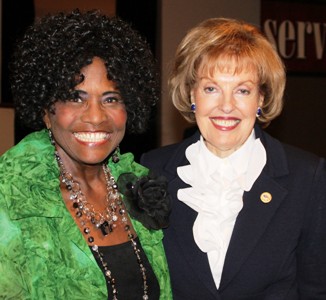 Ms. Lillie with Shirley Dobson
Because I always celebrate my birthday for a month

I went early to Pasadena to meet with my long-time friend, Cornelia .... we met in San Jose nearly forty years ago. She wanted to treat me to a belated birthday lunch .... we went "Mexican." The waiters gathered around our table after placing this big sombrero on my head to sing Happy Birthday to me.

She is a very special friend .... friends are important .... and old friends are the best.

Of course, to know Jesus as our true friend is the absolutely best thing to happen to us.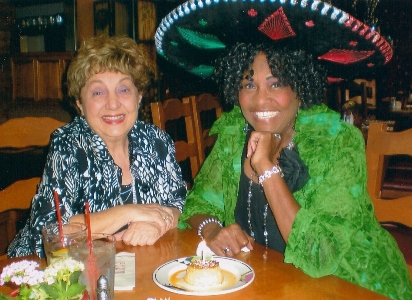 Cornelia and Ms. Lillie
Proverbs 18:24 - A man who has friends must himself be friendly, but there is a friend who sticks closer than a brother.
I want to again say a big "thanks" to those of you who have supported me these nearly 33 years of full-time ministry with your prayers and financial gifts. God has used YOU to be a blessing to me, and I am grateful to Him and you. Your gifts of love have made and are making an impact that will live throughout eternity.
I am about to do something I have never done before .... I thought that now at age 73, I would not make a new CD .... but because I am still asked to come minister, I do need some new songs that can touch .... lift heads and hearts .... so I'm asking if you would be willing to help produce this "last CD."

I have learned that it will cost $20,000 .... I know that seems like a lot of money .... but believe me, that is a great price. I want to be able to put songs I have not done before, such as "Amazing Grace" .... it seems that each time I minister, folk come to ask which CD has "Amazing Grace" on it.

Another of my favorite songs is "The Love of God" .... and if you're willing to help me with any amount .... please let me know. Remember no amount is too small. Feel free to give me suggestions of songs you would like to have on this CD also .... I am excited! I'm looking at the second week of July to record .... so would you please ask God if He wants you to give towards this project? I will be happy to include the names of all contributors on the insert .... your giving means that I can continue to worship our God with powerful songs .... songs that will minister to hurting hearts and lives. Please know that whatever you give, you will receive a tax-deductible receipt from my accounting office in Springfield, if the check is made to "Lillie Knauls Ministries." Will you please tell me what you can do .... I know that God will supply the need .... He always has.

Col. 3:17 - In whatever you do, whether in word or deed, do it all in the name of the Lord Jesus, giving thanks to God the Father through Him.
See ya next time.....


Happy to be His Handmaiden,