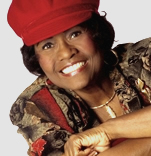 November 2010
Psalms 100:4-5 - Enter His gates with Thanksgiving and His courts with praise; give thanks to Him and praise His Name. For the Lord is good, and His love endures forever; His faithfulness continues through all generations.
I trust that your Thanksgiving with family and friends was a wonderful day....mine was....and I'll tell you about it later.

Fall has certainly arrived....the leaves are falling off the trees (just messing up my yard).

I will be very happy when they've all fallen off and the yard begins to look normal. There is a real chill in the air....The temperature is in the low 30's....and to me, that is cold.

The squirrels are busily collecting things they need to store away.
What an exciting month I've had. I am happy I serve a God who gives second chances. He forgives our transgressions and remembers them no more.
Isaiah 43:25 - I am He who blots out your transgressions, for My own sake, and remembers your sins no more.
A few years ago, I went regularly to Charlotte NC to sing for Heritage USA on the Jim Bakker television program. I am certain most folk know the story of PTL....his time in prison....his return to Ministry.
For eight years, Jim and Lori have lived in Branson MO, taping the "New" Jim Bakker Show. I have been blessed to be a guest several times. This month, I visited their new location, called Morningside. It is a lovely place, similar to Heritage....the main street....lovely apartments where many folk have moved to live and enjoy being a part of the Ministry there.
What a joy to be a part of two shows....the first Christmas shows of the season. I sang some Christmas songs as well as others. I learned that you can go on the Internet to the "New Jim Bakker Show" and view them. They were aired on Tuesday/Wednesday, Nov. 23/24. It was good to see how God is blessing Jim and Lori and to have fellowship with them.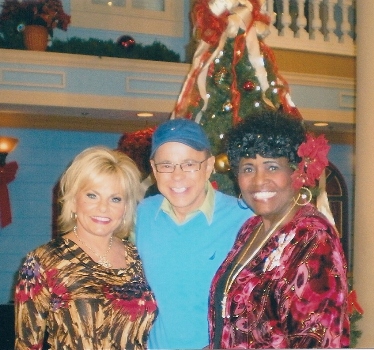 Lori & Jim Bakker and Ms. Lillie
The Tabernacle at Morningside is where the Sunday am service is held....I sang for a wonderful group, many were part of THE GREAT COMMISSION (young people who come to learn to be servants of The Lord)....learn practical skills with hands-on training in different areas. Hope you're able to visit there sometime. You will be blessed.
It's hard to believe that the incredible pianist, Dino, makes incredible cakes. He has a darling restaurant that features delicious foods and of course, his cakes. No, I didn't eat the whole cake.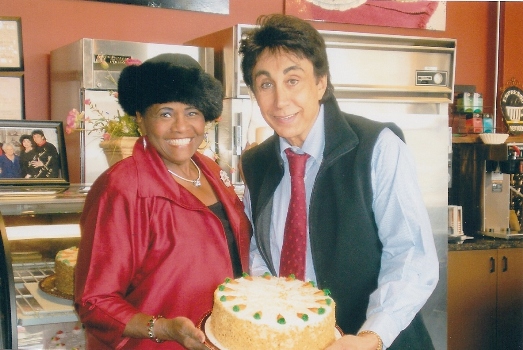 Ms. Lillie with Dino
and his famous carrot cake
My wonderful long-time friend, Shirley Jordan....with whom I stay when I am in Orlando, went to Branson with me. She, only two weeks before the trip, buried her husband....he had wanted her to come with me (I had been asking for four years). In fact, he made plane reservations for her. At first she wondered if she would be able to go....but special friends felt that he would have wanted that....so there we were at the New Jim Bakker Show (she played organ at Heritage in Charlotte for Jim)....and it was wonderful for them to reconnect. On one of the two shows I was on....Shirley gave a moving testimony of God's peace since her husband's passing before playing that great Hymn of the Church, "It Is Well With My Soul." Branson MO is a beautiful place....so many great shows to see and to enjoy. We had fun. We checked into a motel .... the owners are born-again Christians....so kind to us and they love the Gaither videos.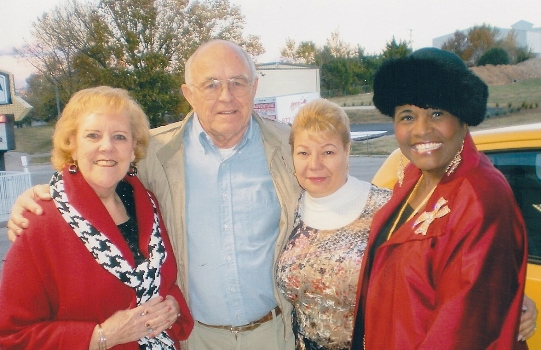 Shirley, Richard, Raquel, and Ms. Lillie
Psalms 133:1 - How good and pleasant it is when (sisters) dwell together in unity.
Another wonderful gift from God....I was calling my long-time friend, Gretchen (we were in Junior High and High School together....have kept in touch for 53 years since our graduation from Garfield High School).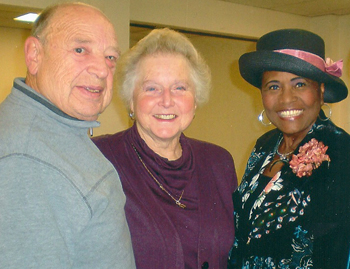 Pierre and Getchen and Ms. Lillie
....I dialed the wrong number, the lady who answered the phone said, "Wow, you sound happy!" My reply, was that "It is because Jesus is in my heart." Well, her reply was, "He is in my heart also." As we talked, I discovered that she was a member of a church I had sang for the dedication nearly 30 years ago. How exciting to hear that she was the Director of the Senior's Group in her church. Of course, I mentioned that I would love to come and Minster for them. So I was invited by Ms. Helen to Seattle to sing for her Senior's Banquet the Saturday before Thanksgiving.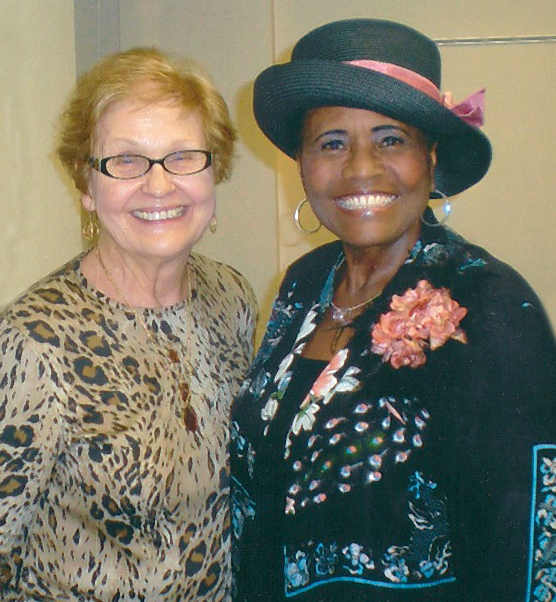 Ms. Helen and Ms. Lillie
I got all excited....because I realized I could spend Thanksgiving with my two sisters and their families. How great was that? What a wonderful day together with them....eating those wonderful home-cooked dishes....I love turkey (the drumstick).

So much chatter around the table as well as laughter. There was a bit of sadness as our sister, Gertie, is no longer with us....she's with Jesus now two years. Soon we'll all be together again.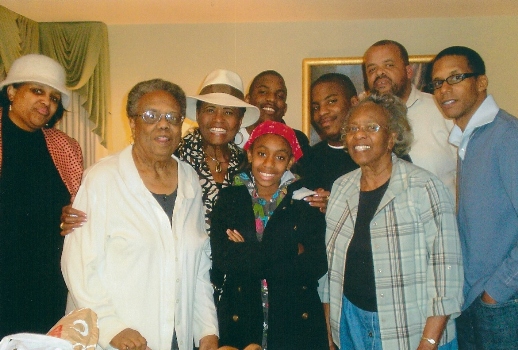 Ms. Lillie with her sisters
and nieces and nephews
I was able to sing four times before the real surprise....LOTS OF SNOW, and very cold, 20 degrees. I was unable to go outside, my rental car just sat there for days covered with snow....so I'm happy to be back in California, even though it is chilly....but at least no snow.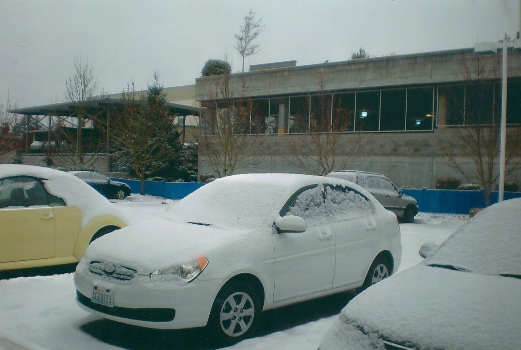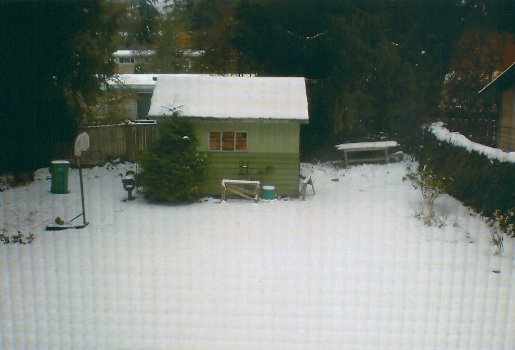 Back to Thanksgiving....I try to live with an Attitude of Gratitude....God has been so good and faithful to me....especially for these 32 years I have Ministered in Word and Song around the world. In small churches .... mega churches .... Senior Groups ....Singles Ministries ....Women's Groups .... and prisons.
He gave me an exciting assignment after I retired from my 22 years of working at the telephone company. What a gift. I have trusted God for all of my needs and HE HAS NEVER FAILED ME AND HE WILL NEVER FAIL YOU. When the sorrow seems too hard to bear, when circumstances that cause you to wonder where God is, hold on....for He is planning to do something in that situation. We can face trials and sufferings with the assurance that God never makes a mistake....He knows just what we need....and when we need it. God lovingly cares for us.
Hab. 2:3 - The revelation awaits an appointed time; it speaks of the end and will not prove false. Though it lingers....wait for it, it will certainly come and will not delay.
Thanks for being in my life....how I love receiving cards, letters, phone calls telling me that you pray for me....that means so much as I travel proclaiming the Good News through word and song. I pray for all my brothers and sisters who are part of the Body of Christ.
I am busily working on my 2011 schedule....so if you feel I would fit into your function ....let me know....you will NOT be disappointed.

Don't forget .... all gifts of love to the Ministry goes through my account in Springfield and I am happy to send you a tax-deductible receipt.
Romans 15:5 - May the God who gives endurance and encouragement give you a spirit of unity among yourselves as you follow Christ Jesus.
See ya next time.....


Happy to be His Handmaiden,