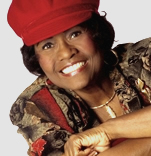 November 2011
I was very excited to be able to attend the 104th convention of the churches of God in Christ (I grew up in that grand old church organization).....for 102 years, the convention was held in Memphis TN......which I have been attending since I was a little girl......it was finally moved to St. Louis and for the first time.....all of the meetings were held under the same roof.......a 40 to 60 thousand arena, plus all the vendors and food......it was wonderful .......not to have to leave the building, etc....the singing, of course was glorious....the messages dynamic.... and bumping into long time friends throughout the day and night was very special. To my surprise....the weather was warmer in St. Louis than here in California.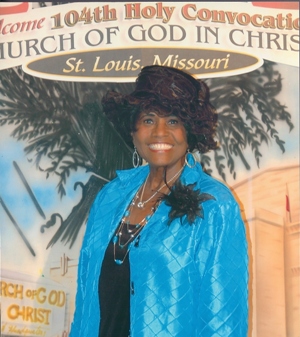 While there, I was able to sing at an exciting church in the area.....a real blessing to meet again with long time Pastor friends.....we had good fellowship again.....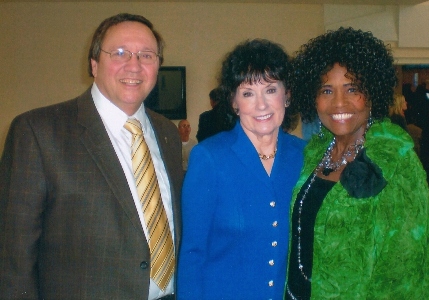 Pastors "Hap" & Sandy Schroeber
and Ms. Lillie
It was that favorite time of the year again....when the leaves change ......this tree was in their parking lot.....God certainly knows how to paint a tree.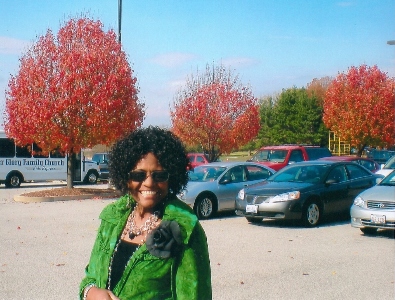 Ms. Lillie and Fall Foliage
I was given an opportunity to sing for the CASA (California Senior Adult Association) Conference.....there are so many seniors now and they have many needs....that need to be addressed.....so leaders from all over came for 3 days to hear speakers on many different topics......I feel that I learned much about my age group.

Please remember me when you begin planning your Senior functions in 2012....you'll not be disappointed. We will all be blessed....and YES....you can afford me.

Well, the time for the Silver Follies was here.....I was looking forward to singing "O Happy Day" with a small choir and "Route 66"......there was a good crowd.....and lots of good gifts in those seniors who performed. I was grateful for the open door.....as I was able to sing the only Gospel song of the evening. God is good.
I was asked to sing for a special banquet.....called Thank-mas......they simply combined Thanksgiving and Christmas.....the first part we talked about being thankful....and the second part....was all about the "gift" God sent....I loved the combination......and being able to hear HB London was a real treat....he challenged our hearts.
Confession time......I am still stuffed....from eating all that turkey and trimmings

....it was a great time with family in San Jose.........it is always soooo good to be together....to share about God's faithfulness......I went up a day early to be a part of the Thanksgiving Eve service at Cathedral of Faith (the church I attended...when I lived there). It was wonderful to hear the message by the founding Pastor Kenny Foreman....he challenged us to look for reasons to tell God each and every day how grateful we are for all He does......I certainly want to live with an "Attitude of Gratitude" to God....knowing that it is impossible to be sad .... discouraged....angry for long when we are truly thankful.
Psalms 100:4 - Let us come before our God with thanksgiving and extol Him with music and song.
I was part of a tribute.....to Mahalia Jackson......lots of singers, soloists .......choirs, etc....she was a truly wonderful singer....I am grateful I was able to meet her twice.......I was honored to be in her presence......I have no photos....the era before I-phones and digital cameras.

This year 2011 is almost gone......and I am thankful to God for all He has blessed me to do....where all the places I have gone to minister.....and am looking forward to all He has for me until He calls me home.
John 9:4 - As long as it is day, we must do the work of Him who sent me. Night is coming when no one can work.
I want to encourage you in this difficult time....when there is so much turmoil in the world....but our Lord and Savior Jesus Christ instructs us not to be fearful ....because He has "His peace" to give us....not as the world gives.....my Mom would say...."the world did not give us joy and peace....so the world cannot take it away" soooooo true.
John 14:27 - Peace I leave with you; my peace I give you. I do not give to you as the world gives. Do not let your hearts be troubled and do not be afraid.
Here is something else to remember....Jesus has never failed us in the past....and He will not fail us in the future......no matter what you are facing....we can have our eyes "fixed" on Jesus.
Psalms 112:7 - We will have no fear of bad news; our heart is steadfast, trusting in The Lord.
I was hoping that I could tell you my CD is ready to be shipped....but it is not.

I still have a couple of things that must be done and then it's ready....click here to see the cover and list of songs. I know that you will enjoy listening.
I am busily working on my schedule for 2012. If you would like me to come minister for Ladies Functions, Senior Groups....and of course, Churches....just give me a call: 909-948-2448.

Thanks for your gifts of love to the Ministry God has called me to. It is "Good Ground." You will receive a tax-deduction. Thanks. God bless you, may your Christmas season be blessed.
See ya next time.....


Happy to be His Handmaiden,