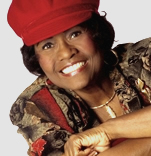 Sept. - Oct. 2012
I am certain that as born-again Christians, we are praying about this election .... who will be the President? .... as well as all those who will be put in places of leadership .... and that God will have mercy on our land. May revival begin in each of us. It is easy to get lost in all the political rhetoric .... mean spirited lies .... bombarding us through TV, radio ads .... but thank God for his comforting words that assures us of His concern for us .... the same words He spoke to the children of Israel .... He speaks to us today.
Isaiah 41:10 - Do not be afraid, for I am with you. Do not be dismayed, for I am your God. I will strengthen you. I will help you. I will uphold you with my right hand.
September began with ministry at a great church .... a message about "ours days here on earth" .... they are all numbered .... but only God knows how many we have .... so we are to work for Him until He calls us home .... wow! I loved hearing that because that is what I am doing .... since I hung up on Ma Bell 34 years ago now .... and have been full-time in the ministry .... I have been trying to do what God has asked me to do .... proclaim the Good News to all. Are you busy also .... working for Him?
Most of you are aware that for nearly 10 wonderful years, I lived in beautiful Hawaii .... it is my favorite place to vacation .... so when I left there in 1994 I asked God if I could please return each year to enjoy fellowship with the wonderful friends I have there and minister wherever the doors opened .... so He has given me favor and I have been able to do that. I arrived on September 21st .... and returned on October 22nd.....each time I seem to stay a bit longer .... this time I was there for a month. Wow!

I started out in Kona .... the headquarters of YWAM .... the ministry started by Loren Cunningham 53 years ago .... graduates have circled the globe bringing Jesus to millions .... folk come for studies on how to evangelize .... then leave to go "just do it."
Mark 16:15: And He said unto them, Go ye into all the world and preach the gospel to every creature.
I spoke on Saturday for Christian Women's Connection in Kamuela .... a beautiful drive about an hour from Kona.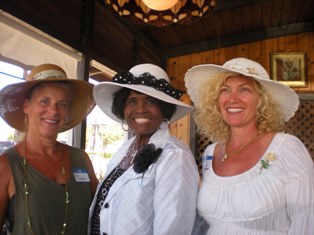 Christian Women's Connection -
Jen, Ms. Lillie and my hostess, Cindy
I was so excited to see dear friends whom I had met 30 years ago .... Chuck and Doni Antone .... We were together at the Waikiki Beach Chaplaincy in Honolulu .... with the services on the beach .... they moved many years ago to Kona with the same type service on a Kona beach. What a blessing to have that type ministry .... as folk who perhaps would not go to a church building are able to hear the Gospel .... because "church is set up around them"

Then on Sunday morning, I ministered in a church in Kona .... founded by my friend David Rees Thomas ..... now Pastored by a wonderful young man .... Pastor Kealoha. On Monday, the day I was flying to Honolulu .... I met early morning with my friends Chuck and Doni to go minister in a nursing home .... I loved it .... they enjoyed the old wonderful hymns of the church.
Matthew 25:45 - He answered them saying, verily I say unto you, when you do it to the least of these, you did it unto Me.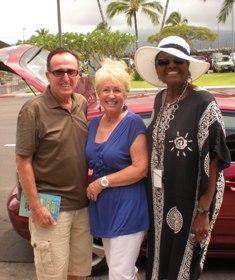 Chaplains Chuck and Doni Antone
with Ms. Lillie
The last time I was in Hawaii .... I ministered every other day .... so this time I felt, because I am getting older,

I would just minister each Saturday and Sunday .... and that really worked out well .... I would go to Curves to exercise each Monday, Wednesday and Friday .... and stop at grocery store, etc while I was out .... then quickly return to the condo (a blessing from God and generous long-time friends) .... to enjoy looking at this awesome view.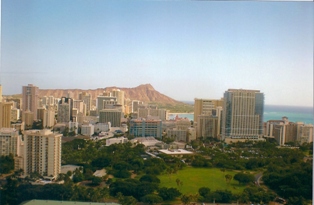 View from my 35th floor condo
Then on Tuesday and Thursday, I would not leave the room .... I had many magazines .... Christian radio .... five Christian TV stations .... books .... and my little 10-inch computer with me .... so I was able to receive e-mails, etc .... and answer them. On Saturday, I was speaker/singer for a Ladies Hat Luncheon.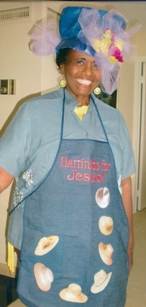 Ms. Lillie's gift - a "J" for Jesus
made of hats and her original hat made from a plain old brown paper bag sprayed blue
I love doing Tea Parties .... because ladies forget how nice it is to wear hats .... we suggest they do it for that day .... and it is always a lot of fun .... and good ministry .... I know after each meeting, I was told how they were touched as they greeted me on their way out .... I am always sooooo grateful for the "assignment given me by God" .... to bring "Good News" .... with encouragement through songs and Scripture.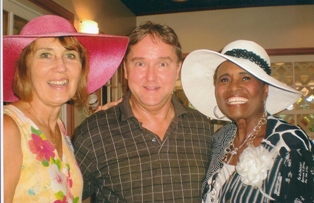 Long-time friend, Cindy (Tea Coordinator), Brian (Tea House Manager) with Ms. Lillie
Another wonderful Hat & Tea Luncheon planned by my dear friends, Joey and Kathy, was a special day. My favorite hula dancer, Colleen, blessed us at both teas.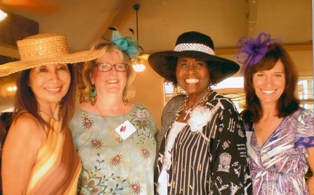 Colleen, Joey, Ms. Lillie and Pastor Kathy
There is one of the most exciting churches I have ever visited .... in Honolulu .... New Hope Four-Square. I was blessed to be there for 5 .... yes, 5 services .... on Saturday at 5&7pm .... then I had to sleep fast because the services on Sunday were at 7-9-& 11am.

Pastor Wayne Corderio is multitalented .... he had a Christian rock band years ago .... and sings very well .... so I love to go there and sing a song with him .... the congregation loves it .... and so do I .... I am certain that God enjoyed it also.

Zephaniah 3:17 - The LORD your God in your midst, The Mighty One, will save; He will rejoice over you with gladness, He will quiet you with His love, He will rejoice over you with singing.
Everywhere I ministered was truly ordained by God as I was told by the Pastors .... one Pastor wept openly saying that I was "supposed" to be there that Sunday to minister comfort and healing as there had been a real tragedy just that week .... our God does know all things .... and arranged for me to be there on that day .... what a Mighty God we serve!
Psa 37:23 - The steps of a good man (woman) are ordered by the LORD, and He delights in his way.
Being with my special friends was wonderful .... I met most when I began going to Hawaii for ministry many years ago, before I even moved there. We had so much fun being together again .... and boy .... seeing how the kids have grown up means someone is getting old.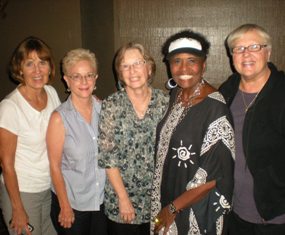 My Hawaii S.I.S. - (Sisters in the Spirit) - Cindy, Sandy, Jan, Ms. Lillie and Stephanie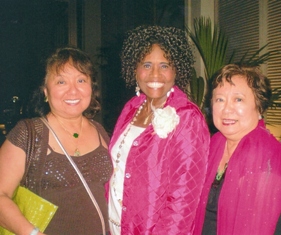 Dear Friends, Charlotte, Ms. Lillie and Pat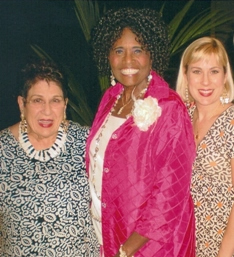 Old Friends, Cheryl and daughter, Courtney
(Miss Hawaii 1994) with Ms. Lillie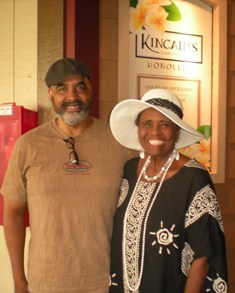 Long-Time Friend, Selwyn with Ms. Lillie
after our delicious lunch
Proverbs 12:26 - The righteous should choose his friends carefully, For the way of the wicked leads them astray.
I have supported many ministries through the years .... however, one I have never stopped giving to .... is Teen Challenge .... and I don't have any thoughts to stop .... because I have ministered for several centers and have seen how God has changed hearts and lives of those guys and girls who enter the program (many not even Christians when they arrive) .... they go through the discipleship and become new creatures.
2 Corinthians 5:17: If any man is in Christ, he is a new creature; old things are passed away; behold all things are new.
I had the privilege of returning for their Fall Festival Revival .... a time when they pitch a huge tent .... bring in students from their centers to be together for 3 days of intense teaching, praise and worship ....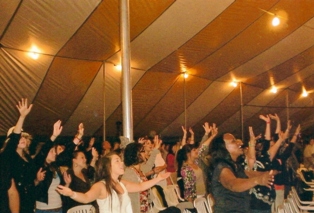 Praising Jesus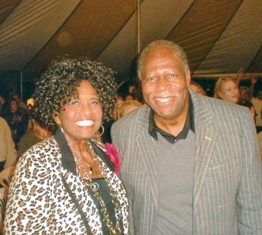 Southern California Teen Challenge Director,
Ron Brown with Ms. Lillie
.... I am able to sing with their choir .... the song that really means a lot to them "O Happy Day" ..... because they have experienced that joy of having their sins washed away by The One who came to earth to die on Calvary and pay the penalty for every sin we will ever commit .... His blood being shed on Calvary, His burial and Resurrection brought us Salvation .... and when we accept Him as Lord and Savior .... WE ARE FREE. Please remember to pray for Teen Challenge Ministry.
I am so grateful for all the doors God opens for me to enter. I again wish to thank those of you who have supported me through the years with your offerings (this ministry is good ground) .... most of all thanks for your prayers. For 34 years, I have traveled the world proclaiming the Good News. Your generous donations has enabled me to do so. Hearts and lives have been changed through this Ministry because of you.
I want to encourage you who are going through trying times, that God does not disappoint .... in times of trouble .... we can trust Him to carry us through each dark night.
Psalm 18:2 - The LORD is my rock and my fortress and my deliverer; My God, my strength, in whom I will trust; My shield and the horn of my salvation, my stronghold.
Until next time.....


Happy to be God's Handmaiden,